Republic Day Parade in India
Republic day in India is celebrated every year by organizing a huge and grand Republic Day parade in New Delhi at Rajpath, India Gate. Republic Day parade is held annually on 26th of January after the Flag hoisting by the Indian President. This activity becomes the main attraction of Republic Day Celebration of India which generally extends for next 3 days until the beating retreat ceremony. It is organized by the Indian government to represent the defence capability, cultural and social heritages of India in front of the world.
Organizing this event takes much effort from the end of both, the organizer and the participants. Military parades are held in the national capital as well as various state capitals of the country. Representatives from Army, Navy, Air Force and state wise traditional dance groups of India participate in the Republic Day parade.
What is the Republic Day Parade
A parade especially held at Republic Day Celebration of India is called as Republic Day Parade. Generally, a parade is a military or public procession held while celebrating a special day or event. We can say that it is assemble of group of people for a formal inspection or ceremonial occasion. It is held in meaningful way to display something while marching or moving around a place or way. A parade is also called as march or marchpast during which a theme based unique representation is carried out by the group of people. Generally, it is organized alongside a street in a particular costume accompanied by the marching bands or floats (a small vehicle or cart especially powered by electricity). A parade can be held for a wide range of reasons however, generally held during celebration of an event or festival. Sometimes, people perform parade during protest demonstrations.
An excellent arrangement is done to demonstrate Republic Day Parade of India at the Rajpath, India Gate. First of all, the president of India unfurls the National Flag of India followed by the National Anthem of India (Jana Gana Mana) is played. A National Salute is given through 21-gun salute. After this, awards (like the Ashok Chakra, Kirti Chakra, etc) are distributed by the Indian President among people who deserve these awards. Then the bravery awards and medals are distributed by the President among people (from armed forces and civilians) for their exceptional courage and different acts of valor in difficult situations respectively. Some children (who receive National Bravery Award) also take part in the parade during which they ride in front of the spectators on some colorfully decorated elephants or vehicles.
Participants of Republic Day Parade
The Republic Day parade of India is one of the famous parades of the world having more than 25 marching and mounted contingents, around 20 military bands, various military vehicles, 30 cultural tableaux, approximately 30 aircrafts, state wise cultural performers, 1200 school children, etc.
Variety of regiments from the Indian Army, Navy, and Air Force with their different bands and official decorations take part in the march past. Commander-in-Chief of Indian Armed Forces becomes the President of India who takes the salute. Various para-military forces and other civil forces of India participate very actively in the republic day parade. The whole sight of parade becomes very attractive and entertaining especially because of the camel mounted Border Security Force contingent (the only camel mounted military force in the world). Other participants of republic day parade are N.C.C. cadets (especially selected for parade from all over the country) and school children (from various schools all across the country).
Various small vehicles or carts especially powered by the electricity (also called floats, 22 to 30 in number) take part in the parade of Indian republic day to demonstrate the cultures of various states and union territories of India. Such floats of the union ministries and state enterprises give a grand look to the parade. The annual parade of Indian Republic Day is broadcasted live all through the nation on television and radio. This parade shows the power of Indian army and military, tradition and culture of all the Indian states, special activities of government, music, dance and songs by school students, etc.
Motorcycle units of the Armed Forces demonstrate their dare devil motor cycle riding followed by the attractive flypast (flying parade in fighter planes) performed by the Air Force jets and helicopters carrying the national flag. Each display of the parade demonstrates the unity in diversity among people of different religions and richness of Indian culture in heritages and festivals. In this annual parade, around 1200 school children take part to show cultural dances and songs. All the participants consider their honor to be participated in this great national event.
The first Indian Republic Day parade was performed in 1950 when the first republic day of India was celebrated. Parade starts after the arrival of President of India. Before the parade, Prime Minister of India pays a tribute to the sacrificed Indian soldiers by laying a wreath at the Amar Jawan Jyoti at India Gate. And, the President of India unfurls the National flag.
Republic Day Parade Route and Timings
Republic Day parade of India is held in the national capital, New Delhi. It is performed at Rajpath, India Gate. It starts from the Raisina Hill near to the Rashtrapati Bhavan (residence of Indian President) and ends at India Gate. Prior to the parade, a floral tribute is given at the Amar Jawan Jyoti by the PM with two minutes silence in the memory of martyred soldiers (during freedom movement and succeeding wars of defence of country) as well as National Flag is unfurled by the Indian President. The route of republic day parade is more than five kilometers long.
Generally, it is performed at 9.30 a.m. in the morning after flag hoisting at 9.00 a.m. on 26th of January every year. The total timing of republic day parade becomes around three hours long. Few days before the actual performance on 26 January, participants start rehearsing on the way. May be the timing of parade reduced to 90-minute only instead of usual two to three hours. According to the government plans, the number of marching contingents can be cut down by adding some of them together.
Where to Get Tickets and How to Attend Republic Day Parade
To see the republic day parade event on 26 January, one needs to have a ticket for entry. Ticket selling starts almost a couple of weeks before the date of event. You can get tickets for India's Republic Day Parade from 10th of January to 25th of January every year. There are two types of tickets available, one for VIPS (front row passes) and another one is common ticket. There are almost 9 Departmental stores and other non-departmental stores are available to sell tickets. Tickets can be obtained very easily from the following places in New Delhi:
India Tourism Development Corporation (IDTC) Travel Counters (at Ashok and Janpath Hotels) at all the working days.
At the Government of India Tourist Office, 88 Janpath at all the working days (Sunday Closed).
Departmental Sale Counters (at North Block roundabout, Pragati Maidan – Gate No. 1, Red Fort – near police picket, South Block roundabout, Shastri Bhawan – Gate No. 1, Jantar Mantar – Main Gate, India Gate – near Jamnagar House) daily from 10 am to 5.30 pm.
In 2016, ticket counters (at Jantar Mantar, Shashtri Bhawan, South Block roundabout, and India Gate) will be opened for another two hours long (from 10 am to 7.30 pm) from 23rd of January to 25th of January.
Delhi Tourism Development Corporation (DTDC) Counters (at Coffee Home, Food and Craft Bazar, Baba Kharag Singh Marg, Dilli Haat, opposite INA Market and Shri Gandhi Ashram, Chandni Chowk) at all the working days.
At the Parliament House Reception Office from 11 am to 4 pm at five working days (Saturday, Sunday and Holiday closed). Tickets will be available from 19th of January to 28th of January 2016.
In order to attend the republic day parade very peacefully and easily, one needs to follow all the rules and regulations made by the security there. You are not allowed to carry your mobile phones, camera, laptop, digital diary, transistor, remote controlled car-keys or other electronic devices for some security reasons. You need to drop all the electronic devices at home or submit at the security check point available there. People having their own vehicle need to display Parking Sticker in front of the vehicle otherwise they will be prohibited to enter into the high-security zone. Once parade starts, entry becomes prohibited and no one can enter to the venue. Taking water bottles, beverages or other eatable things are not allowed. You need to be sure to have your ticket while entering to the venue.
Republic Day Parade Ticket Price 2016
There is facility of both, online and offline tickets. People outside Delhi can apply for the online tickets. One needs to show his/her valid photo id card to get a ticket for republic day parade. In order to get prevented from the fraudulent activities during ticket buying (especially in 2016), government of India has made it essential to have government photo id cards to get offline tickets. Whereas, for getting online tickets, one needs to fill up the ID number of any eligible I-cards (such as passport, DL, PAN card, voter ID card, Aadhar card, and Student I-card). The prices of tickets for the republic day Parade of 2016 will be:
Online tickets for Indian citizens: 350 rupees.
Offline tickets for Indian citizens: 300 rupees.
Online and offline tickets for students: 50 rupees.
Unreserved tickets for eligible: 150 rupees.
Unreserved tickets for students: 10 rupees.
Tickets for unreserved seats at Beating Retreat Ceremony: 50 rupees and 20 rupees.
Chief Guest of Republic Day Parade 2016
India invites a chief guest every year on its republic day celebration since 1950. The chief guest becomes the President, Prime Minister or King of any country. President, Barack Obama, was the first US chief guest who attended the republic day celebration of 2015. The chief guest at Republic Day of India in 2016 will be the French President, Francois Hollande. Chief Guest is invited annually by the country in order to improve the relationship with that country. This will be the fifth time presence of France in the Republic Day celebration of India. This year the French President is invited as the chief guest because France has been a key strategic partner with India for defense and nuclear issues to enhance the counter-terrorism cooperation.
Preparations for Republic Day Parade
Republic day parade is organized by the Ministry of Defence. Organizing national functions (such as Republic Day Parade, Beating Retreat Ceremony, Independence Day Flag Hoisting Ceremony, Martyrs' Day, etc) is the primary responsibility of Ministry of Defence. Preparations for republic day parade start few weeks ago of the main date of celebration. Participants of republic day parade have to come at the India Gate to do rehearsal on the Rajpath for the final celebration. Indian soldiers start rehearsing in the early morning for the upcoming republic day parade in New Delhi.
Sitting arrangements and other preparations starts at least two weeks ago. Security becomes tight and entry of public gets prohibited at the India Gate for safety reasons on 26 January. Legal checking by police starts all through the national capital few weeks ago in order to protect the terrorist attack at this event as it attracts a huge crowd in the city.
Significance of Republic Day Parade
A grand republic day parade is held on 26 January to mark the importance of this occasion. It is held especially in the national capital, New Delhi in front of the Ama Jawan Jyoti to pay tribute and honor to the India soldiers for their sacrifices during freedom movement and war to protect the nation. It starts from the Raisina Rashtrapati Bhavan along to the Rajpath and ends at past India Gate. This parade is very significant as it represents the power of Indian armed forced (by showing tanks, missiles, radars, etc), culture and tradition of different Indian states and creativity of school students. Invited chief guest (from another country) and President of India becomes the guest of honor of the republic day parade. Floral tribute at the Amar Jawan Jyoti, flag hoisting, 21 gun salute and play of National Anthem mark the beginning of parade. President of India (the Commander-in-Chief of Indian Armed Forces) takes the salute of this grand parade. It gives courage to the Indian youths and makes them feel proud to be an Indian citizen.
Republic Day Parade in Other Cities of India
Beside the national capital, there are various other cities all through the India where republic day parade is performed:
A grand republic day parade is held in Mumbai at Marine Drive (in 2014) or Shivaji Park in central Mumbai (in 2015).
A parade and cultural fair is organized in Bangalore on 26 January at the Field Marshal Manekshaw Parade Ground.
In Kolkata, it is organized along the Red Road near the Maidan.
In Chennai, the most common venues are Kamaraj Salai and Marina Beach.
What was new on Republic Day Parade 2015
Following are the new things happened on republic day parade of 2015:
US President, Barack Obama became the first chief guest. He arrived to the venue in his own highly-secured bomb-proof vehicle Beast (presidential armoured limousine).
There was arrangement of a special glass enclosure at the stage where Barack Obama, his wife, India President and PM, and Vice President sat.
It was first time when women's contingent (from all three services) had participated in the parade with the theme of "women's empowerment".
It was debut of Telangana state (came into existence in June 2014 as 29th state of India) in the R-Day parade 2015 which displayed its famous festival 'Bonalu' in the tableau.
Highlight of this year's parade was first time demonstration of long-range maritime surveillance and anti-submarine P-8I aircraft and advanced MiG-29K fighter plane.
It was declared no-fly zone within a radius of 400 km of Rajpath with the unprecedented ground-to-air security drill.
Republic Day Parade Photos
Following are some attractive photos of republic day parade of India: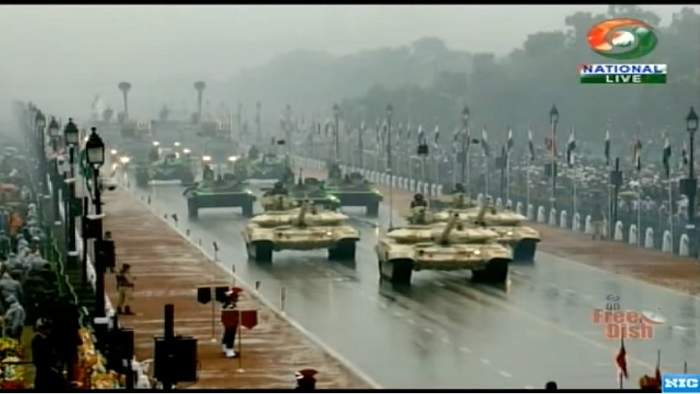 It is the display of 'WZT-3' (armoured recovery vehicle) and 'T-90S-Bhishma' (Main battle tank) during R-day parade to show the power of Indian army to the public.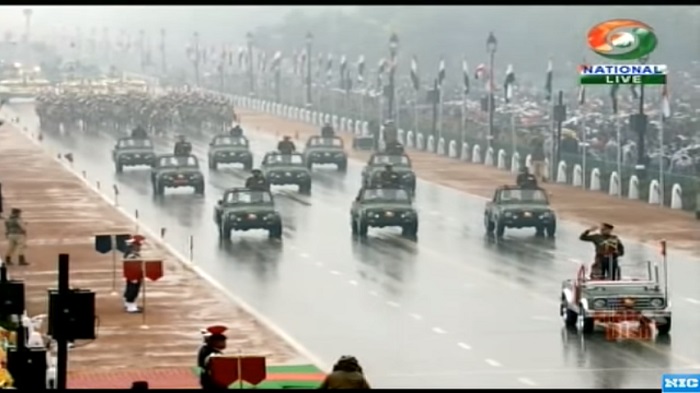 R-day parade showing the Gallantry award winners passing the President's dias in open jeeps.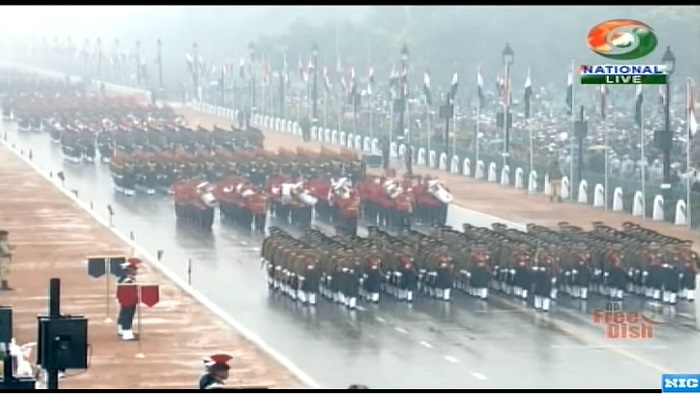 Debut of women's contingent from Indian army (all three services) during parade displaying the women empowerment in India.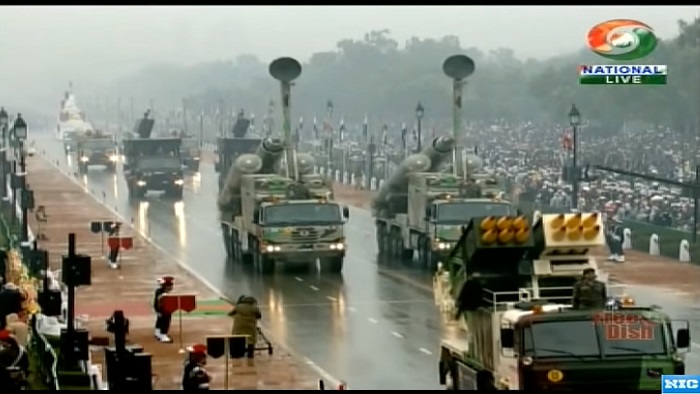 Display of 'Brahmos' (two-stage missile with a solid propellant booster engine and short range ramjet supersonic cruise missile can be launched submarines, aircraft, ships, or land) and 'Pinaka-MBRL' (multibarrel rocket launch developed by DRDO) during R-day parade.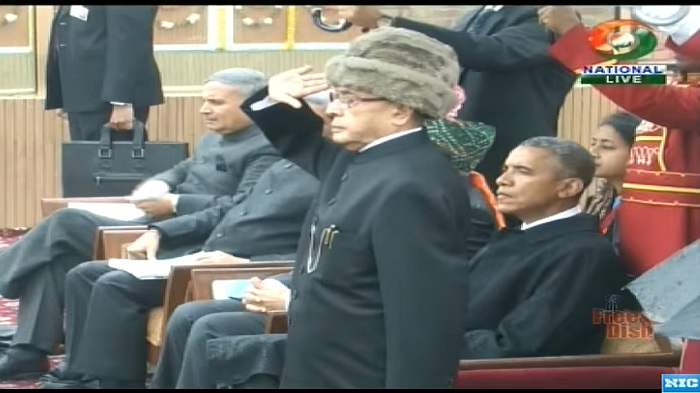 The President of India, Pranab Mukherjee, during National Salute in R-day parade.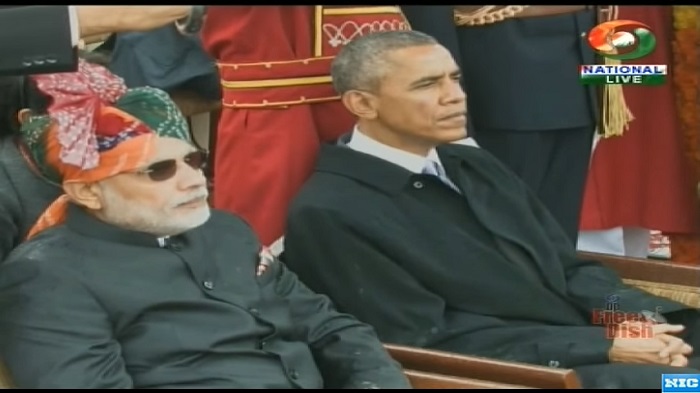 Indian Prime Minister, Narendra Modi and US President, Barack Obama on the Repubpic Day Parade of 2015.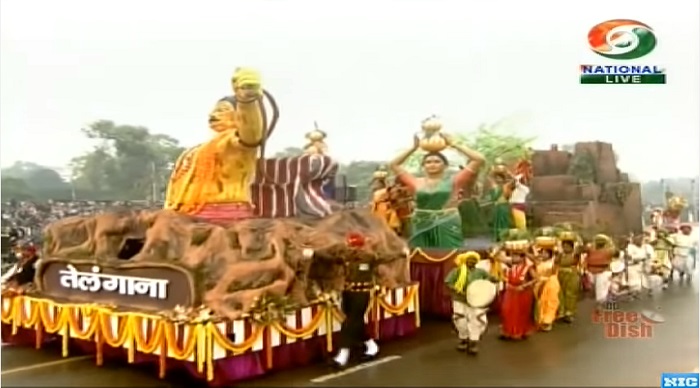 Debut of a 29th Indian state Telangana (made in June 2014) displaying its culture and tradition through the most famous festival (Bonalu).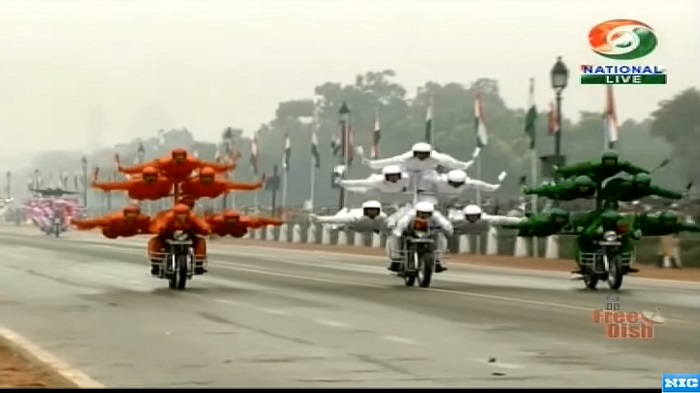 R-day parade showing the dare devil stunts of motorbike riders from the border security force (BSF) of India.
Republic Day Parade Video
Beating Retreat Ceremony (End of Republic Day Parade)
Beating Retreat ceremony is a ritual performed later to the republic day celebration. It officially denotes the end of festivities after 26 January. It is generally held on the eve of 29th January means on third day after the event celebration. Government buildings look dazzling as they get decorated with lights from 26th to 29th January. Beating the retreat ceremony is performed by the group of all the three wings of Indian military (Army, Navy and Air Force). It is performed at the Vijay Chowk (Victory Square), Rajpath and marks the end of 4 days long celebration of republic day in India. It is an event of national pride performed to mark the centuries old military tradition. It is carried out annually since 1950. It starts with the flag hoisting ceremony followed by the parade and display of rich cultural heritage and military power of India.
President of India becomes the Chief Guest of this ceremony who arrives to the venue with a cavalry unit (soldiers who fight on horseback). This unit gives a National Salute on the order of PBG commander (President's Bodyguards) when President arrives. At 6 pm in the evening, the National Flag is lowered when a bugler (a brass instrument like a small trumpet) sounds the retreat (means a signal for a military withdrawal). Then Indian National Anthem (Jana Gana Mana) is played by the Army (military bands, pipe, drum bands, buglers and trumpeters, bands of Navy and Air Force, etc) for the formal end. Later, some popular tunes (like Abide With Me, Mahatma Gandhi's favorite hymn, Saare Jahan Se Achcha, etc) are also played at the end of ceremony.
Live Webcast of Republic Day Celebration | President's Address to the Nation on Republic Day
Republic Day | Republic Day Essay | Republic Day Speech | Republic Day Quotes | Paragraph on Republic Day | Slogans on Republic day | Facts about Republic Day of India | National Flag of India | National Anthem of India | National Song of India | Flag Adoption Day