Swami Vivekananda was a great religious Hindu saint and a leader who founded the Ramakrishna Mission and Ramakrishna Math. We celebrate National Youth Day every year on 12th of January on his birth anniversary. Students may get assigned by their teachers to write some paragraphs or complete essay on Swami Vivekananda.
Nowadays, essay writing is one of the good strategies followed by the teachers in the schools and colleges to enhance the English writing skill and knowledge of the students about any topic. Essay writing is also an effective way to get views, ideas and thoughts of the students over any topic.
Long and Short Essay on Swami Vivekananda in English
We have provided some paragraphs, short essay and long essay on Swami Vivekananda to help students in successfully completing their tasks in the school. All the Swami Vivekananda essay is written in simple words using easy English language. So, you can select any essay according to your need and requirement. It will also help you to know as who was Swami Vivekananda, when was he born, what was the name of his parents, what was the education of Swami Vivekananda, who was the guru of Vivekananda, when he gave speech at Chicago, what are the teachings of swami Vivekananda etc.
Swami Vivekananda Essay 1 (100 words)
Swami Vivekananda was born on 12th of January in 1863 in Kolkata as Narendranath Datta to Vishwanath Datta and Bhuvaneshwari Devi. He was an extraordinary child with spiritual thoughts. His education was irregular but he completed Bachelor of Arts degree from the Scottish Church College, Kolkata. His religious and monk life started when he met Shri Ramakrishna and accepted him as his Guru. Later he led the Vedanta movement and introduced the Indian philosophy of Hinduism in western countries.
His Chicago speech at the Parliament of the World's Religion on 11th September, 1893 where he represented India helped in establishing Hinduism as an important world religion. He was very intelligent person with in-depth knowledge of Hindu scriptures (Vedas, Upanishads, Puranas, Bhagawata Gita, etc). Karma Yoga, Bhakti Yoga, Raj Yoga, and Jnana Yoga are some of his major and famous works.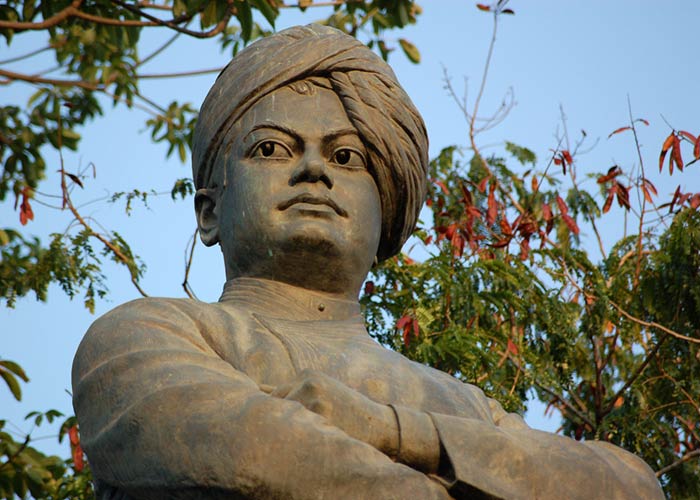 Swami Vivekananda Essay 2 (150 words)
Swami Vivekananda was a great patriotic leader, born as Narendranath Datta in Kolkata on 12th of January 1863. He was one of the eight siblings of his parents Vishwanath Datta and Bhuvaneshwari Devi. He was a very intelligent boy and active in music, gymnastics and studies. He completed his graduation from Calcutta University and gained knowledge about different subjects including western philosophy and history.
He was born with yogic temperament and used to practice meditation and was very eager to know about God from his childhood. Once, when he was going through some spiritual crisis, he met Sri Ramakrishna Paramahansa and asked him a question that if he has seen god and Sri Ramakrishna replied him "Yes, I have. I see him as clearly as I see you, only in a much intense sense". Influenced by his divine spirituality Vivekananda became one of the great followers of Sri Ramakrishna and started following his teachings.
Swami Vivekananda Essay 3 (200 words)
Introduction
Swami Vivekananda was born on 12th of January in 1863 in Calcutta as Narendra Nath Datta. The names of his parents were Vishwanath Datta (an attorney at Calcutta High Court) and Bhuvaneshwari Devi (a religious housewife). He was a most popular Hindu monk, a patriotic saint of India and a disciple of Ramakrishna Paramahansa.
Philosophy and Works of Swami Vivekananda
His teachings and valuable thoughts are the biggest philosophical asset of India. His philosophy of Modern Vedanta and Raja Yoga are of great inspiration for the youth. He founded Belur Math, Ramakrishna Math and Ramakrishna Mission which spreads the religious and spiritual teachings of Vivekananda and also engaged in educational and social work.
The birth anniversary of Swami Vivekananda is celebrated as National Youth Day every year on 12th of January since 1985. The celebration helps to motivate young generations as well as inculcate the pious ideals of Vivekananda in future generations.
Conclusion
Swami Vivekananda was a great leader and philosopher who represented India on an international platform and won the hearts of the global audience. His teachings and philosophy are the guiding light for the youths of India. His thoughts have always inspired the people and will always serve as a source of energy for the future generations.
---
Swami Vivekananda Essay 4 (250 words)
Introduction
Swami Vivekananda, a worldwide popular monk, was born in Calcutta on 12th of January in 1863. He was called as Narendranath Datta in his childhood. His birth anniversary is celebrated every year as National Youth Day in India. He was one of the eight siblings of Viswanath Dutta, a lawyer at High Court of Calcutta and Bhuvaneshwari Devi. He was a bright student as well a very religious and spiritual person, popular for his Sanskrit knowledge.
Swami Vivekananda's Meeting with Ramakrishna Paramahansa
Vivekananda was a very intellectual in nature since childhood and also questioned the existence of God. One day he met with Sri Ramakrishna who was a priest at Dakshineswar Kali temple. Influenced by his spiritual personality Vivekananda got completely changed and accepted Ramakrishna as his spiritual master. Ramakrishna before his death, asked his disciples to see Vivekananda as their leader and spread the philosophy of Vedanta.
Swami Vivekananda's Chicago Address
After the death of his Guru, Vivekananda attended Chicago Convention of Parliament of Religions, in 1893 where he introduced Hinduism to the world which was highly admired by the audience.  He was ranked, as greatest figure in the Parliament of Religions by one of the newspapers in New York. His speech at Chicago is considered as a great historical move in representing India to the world.
Conclusion
Swami Vivekananda was a great patriot and greatest spiritual figure all over the country who wanted a real development, global spiritualism and peace in the world. He founded a 'Ramakrishna Mission' on 1st of May in 1897 which is involved in propagating Practical Vedanta and variety of social services. On 04th July 1902, Swami Vivekananda attained mahasamadhi and left this world but his great teachings had always inspired the world.
Swami Vivekananda Essay 5 (300 words)
Introduction
Swami Vivekananda was born on 12th of January in 1863 in Shimla Pally in Calcutta with the birth name as Narendranath Datta. His father Vishwanath Datta was an attorney of Calcutta High Court, and mother Bhuvaneshwari Devi was a housewife. He was the chief follower of Sri Ramakrishna Paramahansa and later became the founder of Ramakrishna Mission. He was the person who was successful in introducing the Hindu philosophies of Vedanta and Yoga in Europe and America and revived Hinduism in the modern India.
Early Life of Swami Vivekananda
Swami Vivekananda was highly influenced by the rational mind of his father and religious temperament of his mother. He learned self-control from his mother and later became an expert in meditation. He had also developed a remarkable leadership quality in his young age. He came in contact with Sri Ramakrishna after visiting to the Brahmo Samaj. He stayed with his monk-brothers at the Baranagar Monastery. In his later life, he decided touring India and started wandering from place to place and stayed with people with all religions and gained the in depth knowledge of Indian cultures and religions.
Address at Parliament of World's Religions
Vivekananda left for Chicago on 31st May 1893 for the Parliament of World's Religion. He represented India and gave a speech in the convention introducing Hinduism to the world which made him very popular. When Swami Vivekananda started his speech with "Sisters and brothers of America" there was two minutes of applause from the crowd of 7000 audience.
He continued his speech and talked about the ancient culture of India, tolerance, universal brotherhood etc. This speech by Vivekananda grabbed the attention of the world audience and depicted him as the greatest and influential man in the convention. He also delivered many effective speeches and lectures at various places.
Conclusion
Swami Vivekananda was a great personality of India who showcased our nation to the world and grabbed the attention of the global audiences. His teaching and philosophy are still relevant in the present times and guide the youths of modern era. He also founded Ramakrishna Mission, Ramakrishna Math and also authored various inspirational books. He was a great saint, philosopher and leader India ever had.
---
Swami Vivekananda Essay 6 (400 words)
Introduction
Swami Vivekananda was born in Calcutta, on 12th January in 1863 in a traditional Bengali Kayastha family. The birth name of Swami Vivekananda was Narendranath Datta (also called as Narendra or Naren). He was one of the nine siblings of his parents Vishwanath Datta, an attorney in Calcutta High Court and Bhubaneswari Devi. He had developed into effective personality under the rational attitude of his father and religious temperament of his mother.
Early Life and Education of Swami Vivekananda
He was enrolled in the Chandra Vidyasagar's Metropolitan Institution for studies in 1871 (when he was eight years old) and later to the Presidency College in 1879. He was a very bright student in almost all the subjects. He studied Western logic, European history, Western philosophy, Sanskrit scriptures and Bengali literature.
He was also inspired by the wandering ascetics and monks of his time. He was very religious person interested in Hindu scriptures (Vedas, Ramayana, Bhagavad Gita, Mahabharata, Upanishads, Puranas, etc). He was also active in Indian classical music, sports, physical exercises, and other activities.  He was also appreciated by the principal of his school on various occasions.
Vivekananda and Hinduism
Vivekananda was very enthusiastic towards Hinduism and was very successful in creating new understanding among people about Hinduism both in India and abroad. He was highly influenced by his guru, Ramakrishna Paramahansa whom he met during Bhahma Samaj visit.  The Chicago address by Swami Vivekananda during 'Parliament of World Religions' in 1893 helped in introducing Hinduism, promoting meditation, yoga, and other Indian spiritual way of self-improvement in the West. According to a newspaper he was considered as "a great figure in the parliament".
He was the nationalistic ideal for the people of India. He got the attention of many Indian leaders through his nationalistic ideas and was also praised by the Sri Aurobindo for awakening Indian spiritually. He was also admired by Mahatma Gandhi as one of the great Hindu reformers who promoted the Hindu religion.
Conclusion
Swami Vivekananda's effective writings had inspired many Indian independence activists such as Netaji Subhas Chandra Bose, Bal Gangadhar Tilak, Aurobindo Ghose, Bagha Jatin, etc. He was told as "the maker of modern India" by Subhas Chandra Bose. The organisations founded by Vivekananda are still spreading his teachings and philosophy and also work for the upliftment of the society and nation. Swami Vivekananda's life and teachings are of a great value for India as well as for the world. He was a promoter of spirituality, peace, harmony and universal brotherhood.
Related Information: