Hanuman Jayanti is celebrated every year by the people in India to commemorate the birth of Hindu Lord, Hanuman. It is celebrated annually in the Hindi month of Chaitra (Chaitra Pournima) on 15th day of the Shukla Paksha.
Hanuman Jayanti 2019
Hanuman Jayanti 2019 was celebrated by the people all over India on 19th April, Friday.
Devotees celebrated the occasion with great devotion by visiting Hanuman temples and offering prayers to him. They chanted the holy mantras and read through 'Hanuman Chalisa' to please Lord Hanuman.
A grand fair was organized at Salasar Balaji in Rajasthan, which is one of the holy pilgrimage for the devotees of Lord Hanuman. It is one of the ancient temples of Lord Hanuman where his idols are with beard and moustache.
Hanuman temples in Varanasi were highly decorated with flowers and lightings and were visited by a large number of devotees. People chanted the verses of Ramayana and Ram Charitmanas to please their deity and seek his blessings for a trouble free life.
The celebration at SIES Hanuman Temple, Nerul, Mumbai witnessed a huge gathering on Hanuman Jayanti. People offered prayers to the 33 feet high Hanuman's idol, which is considered as one of the highest idols of Lord Hanuman in the country, and sought his blessings.
How and When to Celebrate Hanuman Jayanti
Lord Hanuman, a dedicated disciple of the Hindu Lord Rama, is worshipped all over the India by the Hindu people for his deep devotion to the god Rama. At the day of Hanuman Jayanti celebration, all the Hanuman temples become full of crowd as people started puja from early morning after a holy bath. Hanuman Jayanti is celebrated with great enthusiasm by the people of Hindu religion as an important festival of the Hindus. It is a great Hindu ritual celebrated in cultural and traditional way.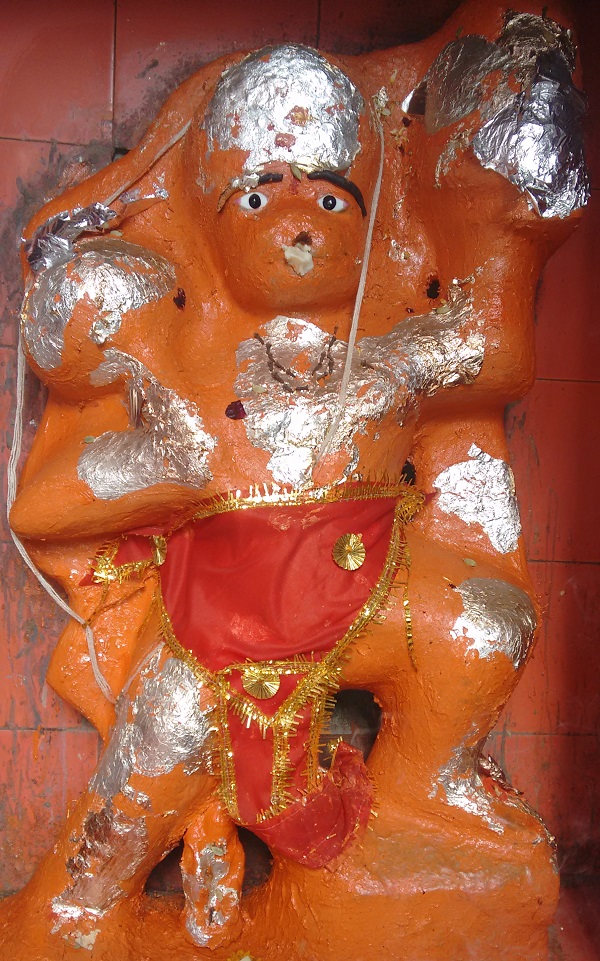 People worship Lord Hanuman as a symbol of devotion, magical powers, strength and energy. People read Hanuman Chalisa as it has ability to conquer the evil spirits and provide peace to the mind. The devotees of Lord Hanuman visit Hanuman temples at this day after a holy in the early morning, apply red tilak (vermillion) to the foreheads of Hanuman idol, read Hanuman Chalisa, offer Prasad of laddoo, do Aarti by chanting mantras and Aarti songs, make round of the temple and so many rituals.
As Lord Hanuman was born to the Vanara community having reddish orange color body, that's why it is seen to all the Hanuman temples having reddish orange colored Hanuman idol. After puja, people apply red Sindur to their own foreheads as a Prasad and distribute laddoo Prasad among people to get blessed with what they have prayed to their God Hanuman.
In the Maharashtra, it is commemorated to the Purnima in the Hindu Lunar month of Chaitra. However, according to other Hindu calendar, it falls on 14th day (chaturdashi) of Ashvin month in the dark fortnight. After puja, Prasad is distributed among people to have full blessings.
In Tamil Nadu and Kerala, it is celebrated in Margazhi month (between December and January) in the belief that Lord Hanuman was born to the amavasya in the Margazhi month. In Odisha, it is celebrated on 1st day in the month of Baisakha (in April). In Karnataka and Andhra Pradesh, it is celebrated on 10th day of Vaishaka month in the Krishna Paksha. It is the 41 days long celebration in the Andhra Pradesh which starts from the Chaitra Purnima and ends at 10th days of the Krishna Paksha of Vaishakha month.
Significance of Hanuman Jayanti Celebration
Hanuman Jayanti celebration indicates the balanced coexistence of the whole human fraternity with the nature's incredible creature, Lord Hanuman from Vanara community. People from the Hindu religion worship Lord Hanuman as a divine creature. This celebration has lots of importance to all however Brahmacharis, wrestlers and bodybuilders are specially inclined towards this celebration. There are many names through which Lord Hanuman is famous among his devotees like Bajrangabali, Pavanasuta, Pavankumar, Mahavira, Balibima, Marutsuta, Anjanisut, Sankat Mochan, Anjaneya, Maruti, Rudra and many more.
Hanuman avatar is considered as the 11th Rudra avatar of the Lord Siva with great devotion, strength, knowledge, divine power, bravery, intelligence, spirit for selfless service and etc. He has devoted his life only for his Lord Rama and Mata Sita and never shows his bravery and intelligence without any purpose. The devotees of the Lord Hanuman always pray him for getting blessed with the same for their bright future. He is worshipped in many ways by his devotees; some meditates by repeating his name many times to get power, fame, success and etc in the life whereas some reads the Hanuman Chalisa to get the same.
History behind Celebration of Hanuman Jayanti
Once, a great saint named Angira went to visit the heaven king, Indra and welcomed there through the dance presented by a damsel named, Punjiksthala. However, saint was not used of that type dance and started meditating on his God. After the end of dance, he was asked by the Indra about the performance of dance. He was silent and said that I was in deep meditation to my Almighty because I have no interest in such dance. It was very ashamed to the Indra and damsel; she started disappointing the saint and then cursed by the Angira that "Behold! You shall degrade to earth from Swarg. You will be born as a female monkey in the mountain forests".
She then felt sorry and regretted to the saint then a merciful saint supported her through blessings like, "A great devotee of Paramatma will be born to you. He will forever serve Paramatma". She became the daughter of Kunjar (king of the monkeys on earth) and got married to the Kapiraj Kesari of the Mount Sumeru. She gave birth to the Hanuman with the help of five divine factors such as curse and blessings of the saint Angira, her prayers, blessings of Lord Shiva, blessings of Vayu deva and Putreshti Yagna's fruit. It is considered that Lord Shiva had to rebirth as a human being on the earth in his 11th Rudra avatar in the form of Hanuman as He could not serve to the Lord Rama by being in His real form.
The whole Vanara community including all the human fraternity was happy and celebrated his birthday with great enthusiasm and joy by dancing, singing and lots of activities. From then, it was started celebrating as a Hanuman Jayanti by his devotees to get strength and wisdom like him.
Hanuman Mantra:
Manojavam Maruttulyavegm
Jitendrium Buddhimatam Varishtham
Vatatmajam Vanarayuthmukhyam
Shri Ramdutam Sharanam Prapdye.
Hanuman Aarti
Aarti Kije Hanuman Lala ki, Dustdalan Raghunath kala ki
Jake bal se giriwar kanpe, Rog dosh jake nikat na jhanke
Anjani putra maha bal dayee, Santan ke prabhu sada sahayi
De beera Raghunath pathaye, Lanka jaari seeya soodhi laye
Lanka so koti Samudra Si khaayi, Jat pawansut bar na layee
Lanka Jaari asur sanghare, Seeya Ramjee ke kaaj saware
Lakshman murchhit pare Sakare laye Sajeewan pran ubaare
Paithi patal tori jam kare, Ahiravana ki bhuja ukhare
Baaye bhuja asur dal mare, Dahine bhuja sant jan tare
Sur nar muni jan aarti utare, Jai jai jai Hanuman uchare
Kanchan thal Kapoor lou chhayi, Aarti karat Anjana mayi
Jo Hanuman ji ki Aarti gawe, Basi Bakuntha parampad pawe.
Doha:
Shri Guru charan saroj raj, nij man mukur sudhari
Varnau Raghubar vimal jasu, jo dayak phal chari
Buddhihin tanu janike, sumiro Pavankumar
Bal buddhi vidya dehu mohi, harahu kalesh vikar.
Jay Hanuman gyan gun sagar, jay Kapis tihun lok ujagar.
Ramdut atulit bal dhama, Anjani putra Pavansut nama.
Pavantanay sankat haran, Mangal murati rup
Ram Lakhan Sita sahit, hriday basahu sur bhup.
Hanuman Chalisa
Mahavir vikram Bajrangi, kumati nivar sumati ke sangi
Kanchan baran viraj suvesha, kanan kundal kunchit kesa
Hath vajra aur dhvaja biraje, kandhe munj janeu saje
Shankar suvan Kesrinandan, tej pratap maha jagvandan
Vidyavan guni ati chatur, Ram kaj karibe ko atur
Prabhu charitra sunibe ko rasiya, Ram Lakhan Sita man basiya
Sukshma rup dhari siyahi dikhava, vikat rup dhari Lanka jarava
Bhim rup dhari asur sanhare, Ramchandra ke kaj sanvare
Laye sanjivan Lakhan jiyaye, Shri Raghubir harashi ur laye
Raghupati kinhi bahut barai, tum mam priya Bharathi sam bhai
Sahas badan tumharo yash gave, asi kahi Shripati kanth lagave
Sanakadik Brahmadi Munisha, Narad Sarad sahit ahisha
Yam Kuber Digpal jahan te, Kavi kovid kahi sake kahan te
Tum upkar Sugrivahin kinha, Ram milai Rajpad dinha
Tumharo mantra Vibhishan mana, Lankeshvar bhaye sabh jag jana
Jug sahasra yojan par bhanu, lilyo tahi madhur phal janu
Prabhu mudrika meli mukh mahi, jaladhi langhi gaye achraj nahin
Durgam kaj jagat ke jete, sugam anugraha tumhare tete
Ram duare tum rakhvare, hot na agya binu paisare
Sab sukh lahai tumhari sarna, tum rakshak kahu ko darna
Aapan tej samharo apai, tino lok hank te kanpe
Bhut pisach nikat nahin ave, Mahabir jab nam sunave
Nase rog hare sab pira, japat nirantar Hanumat bira
Sankat te Hanuman chhudave, man kram bachan dhyan jo lave
Sab par Ram tapasvi raja, tinke kaj sakal tum saja
Aur manorath jo koi lave, soi amit jivan phal pave
Charo jug partap tumhara, hai parsidh jagat ujiyara
Sadhu sant ke tum rakhvare, asur nikandan Ram dulare
Asht siddhi navanidhi ke data, us var din janki mata
Ram rasayan tumhare pasa, sada raho Raghupati ke dasa
Tumhare bhajan Ram ko bhave, janam janam ke dukh bisarave
Antakal Raghuvar pur jai, jahan janma Hari bhakta kahai
Aur devta chit na dharai, Hanumat sei sarva sukh karai
Sankat kate mite sab pira, jo sumre Hanumat balbira
Jai Jai Jai Hanuman gusain, kripa karahu gurudev ke nai
Jo shat bar path kar soi, chhotahin bandi maha sukh hoi
Jo yah padhe Hanuman chalisa, hoi siddhi sakhi gaurisa
Tulsidas sada Hari chera, kije nath hriday mahan dera.