Corruption refers to an act performed by an individual or a group, which seriously compromises the rights and privileges of someone else or the public in general. "Corruption" includes a significant number of illegal and immoral activities from different arenas of governance and administration. Corruption is not only limited to the government and its agencies, but, it also includes private businesses and organizations. Corruption severely hampers the growth and development of a society and a nation as a whole. A corrupt system makes people loose general trust in the government, resulting in an environment of fear and chaos.
Long and Short Essay on Corruption in India in English
We have provided below some Essay on Corruption of varying lengths in English for your information and knowledge.
These corruption essay have been written in simple and easy language so that you don't face any difficulty in understanding the sentences.
The essay will give you an in depth analysis of Corruption and its effects on the society and the country.
You will also know the measures taken by the government to counter corruption and subdue its effects.
Corruption Essay 1 (100 words)
Corruption is a poison which has been spread in the mind of wrong people of the society, community and country. It is the mistreatment of public resources just for getting some unfair advantage to fulfill little wish. It is concerned with the unnecessary and wrong use of both power and position by anyone whether in the government or non-government organization. It has affected the growth of the individual as we well as the nation and reduces income. It is a big reason of inequalities in the society and community. It affects the growth and development of the nation in all aspects like socially, economically and politically.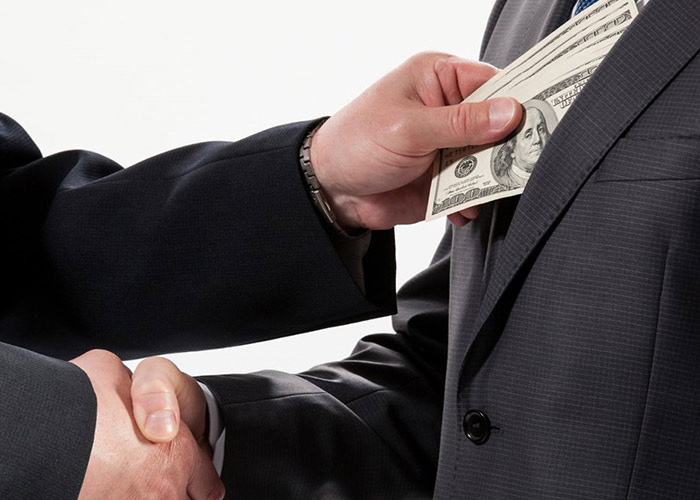 Corruption Essay 2 (150 words)
Corruption is the misuse of public property, position, power and authority for fulfilling the selfish purposes to gain personal satisfactions. Corruption is the misuse of authority for personal gain of an individual or group. It is the unfair use of public power for some private advantages by breaking some rules and regulations made by government. Now a day, it has been spread deeply in the society and has become very strong because of its lots of roots. It is like a cancer which once generated cannot be ended without medicine and spreading its roots continuously.
One common form of corruption in our country is receiving cash money, through online transfer or in the form of costly gift etc. Some people wrongly uses someone else money for their own sake. Some people recruited in the government or non-government offices have been involved in the corruption and can do anything to fulfil their wishes.
Corruption Essay 3 (200 words)
We all are well familiar of the corruption and as it is not a new phenomenon in our country. It has taken its roots so deeply in the people's mind. It is a very common poison in the society since ancient time. It is available from the history time of the Mughal and Sultanate period. It is reaching to its new height. It has affected the mind of people to a great extent and become so common that wrong people can play with the public life. It is a type of greediness which corrupt human mind and destroy one's humanity and naturalness.
Corruption is of different types which has been spread in every filed like education, sports, games, politics, etc. Because of the corruption, one does not understand his/her responsibilities at work place. Corruptions are like theft, dishonesty, wastage of public property, wastage of time unnecessarily, exploitation, scams, scandals, malpractice of responsibilities, etc are the various types of corruption. It has made its roots in both developing and well developed countries. We need to remove corruption from our society and country in order to get real freedom from the slavery. We all need to be loyal towards our responsibilities and strict for any type of greediness.
---
Corruption Essay 4 (250 words)
Now-a-days, corruption is seen everywhere in the society just like an infectious disease. The great leaders of the India who have fought their whole life for removing corruption and other social issues completely from the society. It is the very shameful condition for us that even after losing various great lives, we are not able to understand our real responsibilities. Corruption has been spread in the common public lives, politics, central governments, state governments, businesses, industries, etc. It has not left any field. Corruption is increasing day by day instead of decreasing or steadying because of the continuous increase in the appetite of people for money, power, position and luxury.
We have forgotten the real responsibility of being a human just because of the money. We need to understand that money is not everything and it is not a stable thing. We cannot keep it forever to us, it can only give us greediness and corruption. We should give importance to the value based life and not money based life. It is true that we need lot of money to live a common life however it is not true that just for our selfishness and greediness; we should play someone's life or money in some unfair ways.
Corruption Essay 5 (300 words)
As we all know that corruption is very bad thing. It inhibits the individual growth as well as society and country growth and development. It is social evil which is playing humans body and mind socially, economically and intellectually. It is continuously making its roots so deeply because of the increasing human greediness towards money, power and position. Corruption is the misuse of authority, public position, natural or public resources, power, etc by someone to gain his/her personal gratifications. According to the sources, it has been identified that India ranks three in the highly corrupted countries.
Corruption is highly spread in the field of civil service, politics, business and other illegal fields. India is a famous country for its democracy but it is corruption which disturbs its democratic system. Politicians are highly responsible for all type of corruption in the country. We chose our leaders by having lots of expectations to them to lead our country in the right direction. In the starting they make us lots of promises however, just after the voting they forget all that and involve in corruption. We are sure that our India would be corruption free a day when our political leaders would be free of greediness and use their power, money, status and position in right direction to lead the country, not their own luxury and personal wishes.
We should select very honest and trustworthy leaders to lead our India just like our earlier Indian leaders such as Lal Bahadur Shastri, Sardar Vallabh Bhai Patel, etc. Only such political leaders can reduce and finally end the corruption from India. Youths of the country should also need to be aware of all the reasons of corruption and get together to solve it in group. Increasing level of the corruption needs to take some heavy steps to get control over it.
---
Corruption Essay 6 (400 words)
Corruption is the highly infectious social disease which has spread its roots to the mind of the bad people. No one take birth to do such type of bad activities in the society however some bad conditions of their life forced them to do so. Gradually they become habitual for all of these bad activities. However, people suffering from any problem, disease, etc should keep patience and trust on themselves and never do anything bad in life. As, one negative step of anyone may harm the lives of many people. We are not a single entity on this earth, there are many like us, so we should think a little about others and live life happily and peacefully with positive thoughts.
Now-a-days, lots of benefits are given by the government of India to the poor people on the basis of various rules and regulations to bring social awareness among common people as well as equality in the society. However, poor people are not getting benefited of those advantages given by the government as many officers doing corruption secretly in between the channel before reaching to the poor people. They are doing corruption against law for just fulfilling their own pockets with money.
There are many causes of corruption in the society. Now-a-days political leaders are making interest oriented programmes and policies instead of nation oriented programmes and policies. They are just wishing to be famous politician for completing their own interests instead of citizen's interests and requirement. There is increasing level of change in the value system in the human mind as well as decreasing ethical qualities of human being. The level of trust, faith and honesty is decreasing which gives rise to the corruption.
The number of common people with increased tolerance power towards corruption is increasing. There is a lack of strong public forum in the society in order to oppose the corruption, widespread illiteracy in rural areas, poor economic infrastructure, etc are the reasons of endemic corruption in the public life. Low salaries norms of the government employees force them towards channel of corruption. Complex laws and procedures of the government distract common people to get any type of help from government. During election time, corruption become at its highest peak. Politicians always take support of poor and illiterate people by dreaming them big in future during their governance however nothing happens after win.
---
Corruption Essay 7 (500 words)
Corruption has been spread like a disease all over the India as well as abroad. It has become one of the most speedily increasing social issues in the Indian society. It is generally initiated and promoted by the opportunistic leaders. They never think about the nation's benefits and do lots of damage to the nation through their corruption even for their small advantage. They sell their country properties in the wrong hands and spread wrong beliefs about India in the people's mind living in other countries.
They are spoiling the old traditions and cultures of India for their personal benefits. Now-a-days people who are working in right direction using right principles considered as foolish in the modern society and the people who are working wrong and making wrong promises are good for the society. However, in turn it is true that corrupted people cheating the simple, ordinary and innocent people. They are ruling the mind of innocent people.
Corruption increases in India day by day because there is a strong connection between the officials, politicians and criminals who are making this country weak and so weak. India got independence in 1947 and it was slowly becoming strong and developing but in the mid way the disease of corruption started and stop India to grow ahead. In India there has been a trend of give and take means give some money in order to get your work done whether in the government offices or private sectors offices. And now the condition is getting worse and worse, as earlier, the money was paid for getting wrong works done or only work to be done, but currently money is paid for getting works done in right ways and at right time. Even after paying complete money according to the demand, there is no full chance of getting things done at time and in right way.
Corruption is everywhere in every department whether it hospitals, education, job, government offices, nothing is left of corruption. Everything has become a business and the source of earning money in wrong way. Educational institutions are also involved in the corruption and they give seat to those students only who have paid for, whether they are good students with good marks or not. Very weak students are given admission in the top colleges and universities only on the basis of money paid for wrong admission and the topper student with good marks and lack of money gets back in the life or take admission in any simple college.
Now-a-days, private sectors companies are so good in comparison to the governmental jobs. Private companies are giving job on the basis of candidate's skills, ability, technical knowledge, good percentage of marks and all the educational records. However, it has become tough to get job in the government offices as they need lots of bribe to give any type of job (high level or low level) like teaching, clerk, babu, nurse, doctor, sweeper, etc. And the amount of bribe increases in the market as the level of job increase like IAS, PCC, police, etc ranks jobs.
---
All the essays given above are essay on corruption under various words limit according to the student's need and requirement in the school. All the corruption essay are written to almost fulfill the current need of students. Corruption is a social issue and this topic is in vogue for the student's awareness. Following are the other social issues on which we have provided varieties of essays:
---
Long Essay on Corruption – Essay 8 (1700 Words)
Introduction
A majority of us are probably aware of the term "corruption" and the situations in which the word perfectly fits in. The most plausible reference to the nature of corruption could be assessed by the words of Joe Bidden, 47th Vice President of the United States of America, who quoted – "corruption is just another form of tyranny." The statement weighs corruption as equivalent to that of cruel and oppressive rule of government. However, for a common man/woman, corruption is a challenge, that he/she faces every day, in protecting of his/her fundamental rights and privileges, otherwise guaranteed by the Constitution.
Corruption in India
Though, the ranking of India in Global Corruption Index 2018 has been improved by three places; at a global rank of 78 it's still far from becoming a corruption free nation.
Corruption in India had been prevalent even under the subjugation of British Empire, when India was still far from gaining independence. How deeply rooted was the corruption in Indian society, can be assessed by the words of Mohammed Ali Jinnah. The Muslim League Leader once stated – "One of the biggest curses from which India is suffering – I do not say that other countries are free from it, but I think our condition is much worse – is bribery and corruption. That really is a poison".
This statement of Mr. Jinnah delivered while addressing the first Presidential address to the Constituent Assembly of Pakistan on 11th August 1947, bares naked the truth of corruption in India, even before independence.
Even after 73 years of Independence, not much has changed on that front for the people of India. On the contrary, corruption has grown in dimension and today, it seriously hampers the economical, social and infrastructural progress of the nation as never before.
Corruption in political and administrative system of the country, is curtailing its progress and it devoid the people of India of their basic rights of equality, freedom, right to equal opportunity and right to compulsory education and health among others.
Factors Leading to or Responsible for Corruption
The corruption is rooted into several social, political and economical factors. Though, the most elaborate explanation for the cause of corruption could be estimated by the words of 19th century British politician Lord Acten, who had famously said – "Power tends to corrupt and absolute power corrupts absolutely."
The quote was a reference to relationship between power and corruption. Corruption is most like to occur with power as the powerful can successfully evade accountability, by using his/her power and influence.
The scenario explained above gels perfectly with the Indian political and administrative system of governance. Huge powers are vested upon our political representatives and administrative officials, by the Constitution. The motive behind bestowing them with power was the greater idea of empowering them to act as facilitators to the public, in general interest of the nation.
They are expected to exercise their powers in implementing several welfare schemes and projects, without any hindrance, for the overall welfare of the people and progress of the nation. However, the whole idea seems to backfiring with, the powerful wielding the powers to their own interests, seriously compromising the interest of the nation and its people.
This is when the corruption slowly seeps into otherwise honest political and administrative circles of India.
Another, most troubling factor behind the prevalence of corruption in India is the latter's acceptance in society as a common phenomenon. Today, the voices against corruption are fainter than ever before and the people have accepted corruption as natural and unavoidable.
This is the reason why we tend to bribe public servants, to escape the legal formalities on issues those are of interest to us. Moreover, giving and taking bribe is today being considered as a wise act and is being applauded in private, if not publically.
Below is given a point wise narration of other social and economical factors that could escalate corruption –
Inadequate compensation and monthly emoluments to the government employees could lead them to corruption.
Illiteracy fuels corruption as it makes a person more submissive and likely to be exploited by greedy officials.
Illiteracy, poverty and lack of a transparent grievance redressal system make people more vulnerable to political and other types of corruption.
A decline of ethics and moral values in the society are also responsible for corruption.
Lack of awareness among the people on their rights and privileges is acting as a fuel to the corruption.
Different Faces of Corruption
The demon of corruption has many faces, than could be imagined, like judicial corruption, governance corruption, corruption in education, corruption in enforcement of laws, financial corruption, political corruption etc. There could be thousands of other similar situations; those could act as examples of corruption. It wouldn't be possible to elaborate all types of corruption in this essay; however, we will discuss a few of them below.
The spectrum of corruption is vast enough to affect people from different walks of life. It involves situations like bribing to secure a government job, bribing to lodge a complaint in local police station, bribing the government doctor for treatment, bribing the official for swift movement of file, paying bribe to the official to get the cheque that you deserve anyway.
Firstly, we will make an assessment of political corruption in India. We all know that the credibility of a political representative is based on the transparent and unbiased election that he or she faces in order to be elected. Despite the Election Commission of India doing a commendable job every time to conduct free and fair elections, there are still some cracks in the otherwise impeccable election system.
More often than not, during elections, we get stray news from throughout the nation, of voters being influenced by money or by wielding powers, by the contestants in election. Such acts amount to political corruption of highest degree and can adversely influence the democratic structure of the nation.
Now let's consider the scenario of a government hospital which functions to provide free or subsidized medical facilities to all the citizens of India. The doctors deployed by the government in the hospitals are compensated adequately for their services; however, sometimes they are seen demanding money from patients to perform an operation or treatment, which should otherwise be performed free of cost. This is a perfect example of corruption in healthcare system.
Likewise there are several examples of corruption in different sectors, depending on their nature and outcome.
Corruption – An Act of Collusion or Not
Corruption is basically an act of collusion between two parties; however, more often than not one party might be forced into the agreement by another party.
Suppose, if a Public Works Department Engineer demands bribe from a civil contractor, for passing the bill for the portion of road constructed by the latter. In this case, though the demand is not obligatory on the contractor, he/she will mostly oblige considering the otherwise cumbersome process of proceeding legally against the demands. In this case the party who gives bribe is actually forced to do so by the party who demands it.
On the contrary, there could be situations in which both the opposite parties have colluded willingly in order to mutually benefit each other. For example a non deserving candidate for a government job, pays bribe to the recruiting official, in order to secure the job.
Nevertheless, whether forced or mutually agreed upon, corruption is an act of collusion, between two parties, which seriously compromises the privileges and rights of other individuals.
Measures to Counter/Control Corruption in India
The corruption in any sector could be effectively controlled by working on improving transparency and accountability in that particular sector. Transparency will ensure that each and every functioning, decision and its outcome is known to the public and all, so that the fairness of the deal could be ascertained. On the other hand accountability places responsibility of an undesirable outcome/loss on an individual.
This has been done by the government of India under the Right to Information or the RTI act, which had been incorporated in 2005. RTI Act 2005 gives the power of questioning to the common citizen of India. Using the RTI Act anyone could now question any department by simply submitting a RTI application.
You can now question and get answers on subjects like – how much of the taxes collected, did the government spend and on what mode; how many children in your neighboring school were provided admission under EWS (Economically Weaker Section); what was the cost incurred for the construction of road in your locality and what amount was paid to the contractor; what action did the government take against the official involved in corruption etc.
The RTI law mandates the appointment of a Public Information Officer (PIO) in all the central and state runs departments and ministries. The provision of responding to the queries is binding on the PIO, who has to do so in a stipulated time, failing which s/he would attract departmental action or a hefty fine.
The government has also established Central Vigilance Commission (CVC) in 1964 to look into the matters of governmental corruption. The CVC functions as an autonomous body, free from the influence of any executive authority.
The Government has amended Prevention of Corruption Act 1988, to criminalize the party which pays bribe for undue advantages.
The amendments have a provision to impose penalty on the organization of the person convicted for giving or taking bribery, if latter couldn't be traced or has deliberately left the country to escape law.
Another step that could well be taken to eliminate corruption is, setting up a fast and speedy judicial system, to address the corruption cases in the country.
Conclusion
Though, the corruption is rampant in India, it is also true that by and large the common men and women of India are honest and have an evident dislike for corruption. However, deep rooted the corruption might be, it could be successfully eliminated with political will and public awareness.
Related Information:
Essay on Corruption Free India
Speech on Corruption Free India