Cricket is a game played between two teams of 11 players each. It is a bat and ball game played in a field with a 20 mtr pitch, with wickets at both the ends. The batting team deploys its two batsmen on the field while the opposite team takes charge of fielding and bowling. The batting team score runs and the fielding team try to bowl the batsman out by making field strategies.  Cricket has become an increasingly popular and commercialized game in the past decades. It is played in many forms – like 20-20, one day and test matches.
Long and Short Essay on Cricket in English
Cricket is a most famous and passionate sports of India for many years.
It is mostly liked by the children. Generally they used to play cricket on any small open places like road, small fields, etc.
Kids and children are so fond of knowing about the cricket and its rules and regulations. Most importantly, it is a very common topic which students generally get as a topic to write essay in the essay writing competition.
So help your kids and children in getting participated in the essay writing competition or other type of competition like debate, group discussion, etc using such simple and easy written essay on cricket. You can select any cricket essay given below:
Cricket Essay 1 (100 words)
Cricket is a most famous outdoor game played in India on national and international level. It is a passionate game of India played with a bat and a ball. There are two teams of the cricket each of them having 11 players. It is played for a very common aim of getting maximum scores and number of runs by both of the teams. The team wins who get higher score in the end of match. There is an action centre called pitch around which the game is played. It is played in the big open space and well maintained field from wicket is 68-58 m and small circle of main playing field is 2.64 m.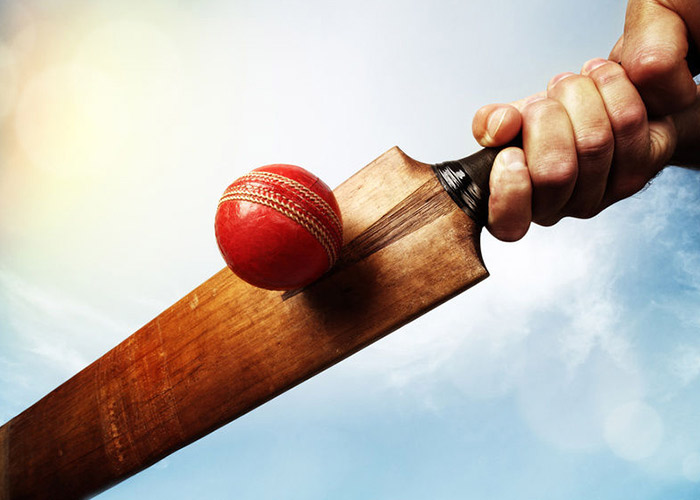 Cricket Essay 2 (150 words)
Cricket is an outdoor game mostly liked by the children and they dream to become a good cricketer in their young age. It is played using a bat and a ball in the big open field. It is the played in between the two competitor teams having 11 players. It is played in the field having a centre of rectangular 22-yard long pitch. It is used by the batsman to take a turn while batting and attempting to get score runs as an innings.
The one member of opposite team called bowler delivers a ball to the member of another team called batsman. Bowler attempt to hit the ball away from the bat in order to take a wicket of batsman. A batsman continues his batting until he gets out by the bowler after doing some fault. Whoever team starts batting, continues the batting until his ten batsmen become out or one batsman has completed the specific number of overs of six balls.
---
Cricket Essay 3 (200 words)
Cricket is a professional outdoor game played especially by the boys of many countries on national and international level. There are two teams of 11 players each in this outdoor game. Cricket is played until 20 overs are completed by each team. All the Laws, rules and regulation are maintained by the International Cricket Council and Marylebone Cricket Club. It is played for Test matches and One Day Internationals. Earlier it was played in the southern England during 16th century. However, during 18th century it was developed as a national sport of England.
During the expansion of British Empire it was started playing overseas and by 19th century a first international match was held by the ICC (a governing body) with two teams having 10 members each. Cricket is the most popular game played in many countries like England, Australasia, West Indies, Indian subcontinent, and Southern Africa. Small children in India are very fond of this game and generally used to play the cricket in small open place, most probable on the roads or parks. It is a very simple game if played and practiced on daily basis. Cricket players need to practice this game on daily basis to remove every small fault and get fluency.
---
Cricket Essay 4 (250 words)
Cricket is my favourite game than all other outdoor games in India. I used to play cricket in front of my house in the park with my school friends and neighbours. Cricket is a game originated in British Empire (an English origin) however started playing in many countries. We need a bat and a ball to play this game. The cricket game came in vogue and gained popularity by 18th century. There are two teams in cricket with 11 players in each, two umpires to notice the faults according to the law and judges all the fair and unfair while playing the cricket. Before stating the game, a coin is tossed by the captain of any team to decide which team start batting first and other one bowling.
Both of the teams get the chance of batting alternatively however the team who win the toss do batting first and opposite team do bowling. Cricket has become one of the most fascinating games in India from points of view of the observers. When any national or international level cricket game is fixed to play, highly interested people become so excited a week before the start of the game. Many cricket lovers start booking tickets to see the live and onsite cricket game in the stadium instead of seeing on TV or news. Our country has become one of the famous countries in the field of cricket playing all over the world. Many times India has won the world cup and many test matches.
---
Cricket Essay 5 (300 words)
Cricket is the exciting outdoor game in India and played in many countries all through the world. It is not so popular in Unites States however played as a most fascinating game in many countries like India, England and Australia. It is a wonderful game played using a bat and a ball in the open space in the big field. It is my favourite sports. I generally used to see only cricket on the TV whenever any national or international cricket competition takes place. In cricket there are two teams having 11 players in each team. One team starts batting first and another team do bowling according to the toss winning. The team who win toss do batting first however both of the teams can do batting alternatively.
There are many rules in the cricket and one cannot play the cricket without knowing the rules and regulations properly. It is played well when play ground becomes dry however there exist some problems when ground gets wet. One batsman gets chance to do batting until he gets out of the game. Whenever match starts everyone's enthusiasm runs high and a high pitch sound of people gets spread all over the stadium, especially when favourite batsman does through a chauka or chhakka ball. Sachin Tendulkar is my favourite cricketer and would be. He had made a new record in the cricket history of India. I completely forget to eat anything for whole day whenever he played his cricket match on national or international level.
Cricket is a hard however simple game if practiced on regular basis. I too, very fond of playing the cricket and play daily in the evening in the play ground near my house. My parents are very helpful and motivate me always to play cricket very well.
---
Cricket Essay 6 (400 words)
Cricket is most popular and favourite game of everyone. We like cricket very much and play in daily evening in the small play ground. It is liked by the people of almost all age group as it is very interesting and suspicious game. There is no any accurate prediction that a particular team would win. At the last moment any of teams may win which increases the enthusiasm of everyone. People have their own favourite team which they want to win and see until the game become over and they get some result. There become a big crowd of cricket lovers in the stadium and TV rooms to see the cricket whenever any test match, national level or international level competition takes place.
Young boys are highly affected by this game and almost everyone wants to be a good cricketer. Cricket is not an Indian native game however played with lots of enthusiasm and joy. Cricket is played in many countries England, India, Pakistan, Ireland, West Indies, Sri Lanka, Netherlands, Australia, South Africa, New Zealand, Zimbabwe, Bangladesh, etc. Cricket matches are generally played for five days with one Rest-Day. Cricket match is played with two teams of 11 players in each and whole test match contains two innings of first innings and second innings. Win and loss in the cricket by any team depends on the highest total runs scored by the teams in their two innings. And the team getting maximum runs at the end of the game is declared as the winner of that day match.
Cricket is not a simple game however can be learned and practiced on regular basis by following all the rules and regulations of the cricket. There is two main player called one batsman and one bowler at a time and both are changed timely whenever they become out or completed their all number of balls and overs.
Before starting the cricket match, a coin is tossed to decide which team would start the batting first. The team who win the toss starts batting first and opponent team do bowling however both of the teams get chance of batting and bowling alternatively. Winning and defeating are two aspects of the cricket game which have made this game most interesting and suspicious. Whenever the batsman through the ball for chauka and chhakka, the whole cricket ground and stadium becomes full of high tuned sound of the cricket lovers especially when the most favourite team do batting.
Related Information: