Ganesh Chaturthi is a Hindu festival celebrating the birth of Lord Ganesha also called Vignaharta or Vinayaka. Ganesha is the son of Shiva and Parvati and a revered Hindu deity and a powerful God in his own right. The festival usually falls in the month of August and September according to the Gregorian calendar. Though, the festival is celebrated throughout India, in the state of Maharashtra it is fervently celebrated with exceptional zeal.
People celebrate the birth day of Ganesha both as a private affair in houses as well as public affair in community places. Large pandals (pavilion) are erected and clay idol of Ganesha is installed inside. The idol is decorated with garlands and visitors make offerings and perform worship. Ganesha is the God of good omen and his consent is mandatory for starting anything new, whether in business or life.
Long and Short Essay on Ganesh Chaturthi Festival in English
Ganesh Chaturthi is a most favourite festival of the Hindu religion.
It is celebrated all over the country with full devotion and joy.
Students are generally assigned for writing essay on any Hindu festival or on a specific topic of Ganesh Chaturthi festival.
Here we have provided some easily worded essay on Ganesh Chaturthi for students and children.
They can select any Ganesh Chaturthi essay according to their class standard:
Ganesh Chaturthi Festival Essay 1 (100 words)
Ganesh Chaturthi is a highly preferred and most popular festival of the Hindu religion. It is celebrated annually in the month of August or September with big enthusiasm. It is celebrated as a birth anniversary of the Lord Ganesha. Ganesha is a son of Mata Parvati and God Shiva. Lord Ganesha is a most favourite God of everyone especially children. He is the God of wisdom and prosperity so people in Hindu religion worship him to get the same. People bring a clay statue of the Ganesha and keep in home on Chaturthi and do worship for 10 days and perform Ganesh Visarjan on 11 day means on Anant Chaturdashi.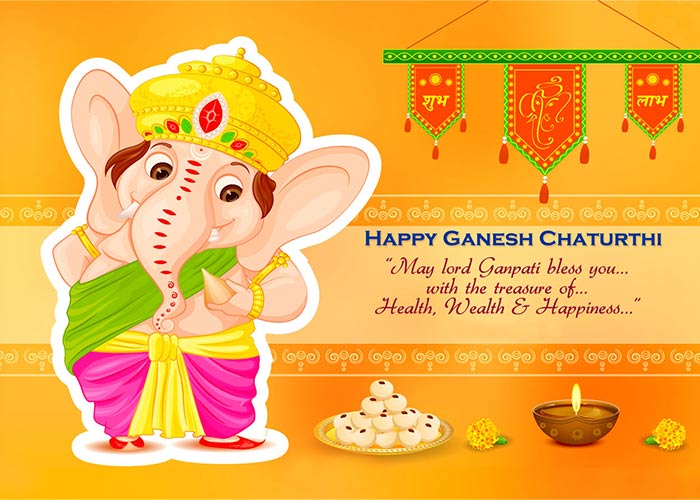 Ganesh Chaturthi Festival Essay 2 (150 words)
Ganesha Chaturthi is a Hindu festival celebrated annually to welcome the God Ganesha on his birthday (birth anniversary). He is lovely son of Lord Shiva and Mata Parvati. People of Hindu religion all across India believe that every year Ganesha come to the earth and bestow people with lots of desirable blessings. Lord Ganesha is a most popular God of the Hindu religion who blesses devotees with wisdom and prosperity.
He is the remover of obstacles and all the problems as well as creator of happiness in the life of people. People in India worship Ganesha always before starting any new work. He is the lovely God for all children. Children call him friend Ganesha as He cares and loves children. People celebrate Ganesh Chaturthi every year in the month of August or September for 10 days. Puja starts from Chaturthi and ends on Anant Chaturdashi.
---
Ganesh Chaturthi Festival Essay 3 (200 words)
Ganesh Chaturthi is one of the most celebrated festivals in India. People wait for this festival eagerly. It is celebrated in various states of the country however in Maharashtra, it is celebrated especially. It is a most important festival of Hindus which devotees celebrate every year with great preparations and enthusiasm. According to the Hindu Mythology, Ganesh Chaturthi is celebrated annually on the birthday of the Lord Ganesha. Lord Ganesha is known as Vighana Harta means remover of all obstacles for devotees and Vighana Karta means creator of problems for devil.
Ganesh Chaturthi is a 11 days long Hindu festival which starts on the Chaturthi with statue installation in the home or temple and ends on Anant Chaturdashi with Ganesha Visarjan. Devotees of Lord Ganesha offer prayer, offerings (especially Modak), sing devotional songs, recite mantra, do aarti and seek his blessings of wisdom and prosperity. It is celebrated separately by the families or group of people in the Pandals or temples or community.
Ganesh Visarjan (means idol immersion into water) is a special and most important part of the puja. It is performed according to the Muhurat of the Ganesha Visarjan. Children of the houses actively involve in this puja and get blessings.
---
Ganesh Chaturthi Festival Essay 4 (250 words)
Ganesha Chaturthi is a Hindu festival falls every year in the month of August or September. Ganesha Chaturthi is a day when God Ganesha was born. From then, people of Hindu religion started celebrating birthday of the Ganesha as Ganesha Chaturthi festival annually.
God Ganesha is a most favourite God of everyone especially children. He is a God of knowledge and wealth and called by the children as friend Ganesha. He is lovely son of father Shiva and mata Parvati. Once the head of God Ganesha was cut by the Lord Shiva and again added using the head of elephant. In this way he got his life back which is celebrated as festival of Ganesha Chaturthi.
People bring an idol of Ganesha to home very happily and perform puja for ten days with full devotion and faith. They perform Visarjan at the end of puja on 11th day means on Anant Chaturdashi to see off the Ganesha this year and come again next year. People pray to God for getting blessing of knowledge and wealth. This festival is also known as the Vinayaka Chaturthi or Vinayaka Chavithi (in Sanskrit).
This festival is observed in the Hindi month of Bhadrapada in the shukla paksha chathurthi (4th day of waxing moon period). It is considered that, first time the fast of Ganesha was kept by the Moon as he was cursed by the Ganesha for his misbehaviour. After the puja of Ganesha, Moon was blessed by the knowledge and beautifulness. God Ganesha is the supreme god of Hindus Who blesses his devotees with wisdom, prosperity and good fortune. Ganesha Chaturthi festival ends on Anant Chaturdashi after the idol Visarjan. Lord Vinayaka is the preserver of all good things and remover of all obstructions.
---
Ganesh Chaturthi Festival Essay 5 (300 words)
Ganesh Chaturthi is a most popular festival in India. It is celebrated every year with great enthusiasm by the people of Hindu religion. Children love too much to the Lord Ganesha and worship him to get blessings of wisdom and prosperity. People start preparation of the puja a month or week before the exact date of the festival. During this festive season, market become in a full swing. Everywhere shops are decorated with the attractive idols of Ganesha and electric lightings in order to increase sales of the idol to public.
Devotees bring Lord Ganesha to their home and perform idol installation with full devotion. It is believed in the Hindu religion that when Ganesha come to home brings lots of wisdom, prosperity and happiness to the home however when go back after 10 days take away all the problems and obstacles with him. Lord Ganesha loves children too much and called as friend Ganesha by them. Group of people prepare pandal to worship Ganesha. They decorate pandal with flowers and lightings to make attractive. Many people from the nearby areas come daily to the pandal to offer prayer and offerings to the God. They offer many things and especially Modak as He loves it too much.
It is celebrated in the month of August or September for 10 days. Ganesh Chaturthi puja involves two important processes; one is idol installation and second is idol immersion (also called as Ganesh Visarjan). There is a ritual in Hindu religion to perform Pranapratishhtha Pooja (to call the God for His holy presence into the idol) and Shhodashopachara (perform worship using sixteen ways to honour the God). There is a ritual of offering of Durva grass and Modak, jaggery, coconut, red flowers, red chandan and camphor while worshiping for ten days. A huge crowd of people involve happily in the Ganesha Visarjan on the end of puja.
---
Ganesh Chaturthi Festival Essay 6 (400 words)
People worship God Ganesha (Vigneshwara) while celebrating the Ganesh Chaturthi. Ganesha is a most popular deity in the Hinduism Who is worshipped by each member of the family. He is worshipped by the people always before starting any new work in any field. This festival is especially celebrated in the state of Maharashtra however now-a-days started celebrating in almost all states. It is a most important festival of Hindu religion. People worship the God of knowledge and prosperity on Ganesha Chaturthi with full devotion and faith.
People belief that Ganesha comes every year with lots happiness and prosperity and goes after removing all the sufferings. Devotees do variety of preparations at this festival to make Ganesha happy. This is celebrated as the birth anniversary of the Ganesha to welcome and honour Him. This festival starts on Chaturthi in the Shukla Paksha in the month of Bhadrapada (August or September) and ends on 11th day on Anant Chaturdashi. Worshipping Ganesha is of great importance in Hinduism. It is believed that one who worships Him with complete devotion and faith would be blessed with happiness, knowledge, wealth and long life.
People take bath in the early morning on the day of Ganesha Chaturthi, wear clean clothes and worship God. They offer many things and pray to God by chanting mantras, aarti song, and devotional songs and perform other rituals of Hindu religion. Earlier, this festival was celebrated only in some families. Later it was started celebrating as a festival with the ritual of idol installation and idol immersion to make a big occasion as well as get free from sufferings. It was started as a festival by the Lokmanya Tilak (a social reformer, Indian nationalist and freedom fighter) in 1893. At that time he made a ritual of worshipping Ganesha to protect Indians against British rule.
Now-a-days, Ganesha Chaturthi is observed as a National Festival to remove the inequality among people of Brahmins and non-Brahmins. Lord Ganesha is known by various names some of are like Ekadanta, God of limitless powers, Heramba (obstacles remover), Lambodara, Vinayaka, God of Gods, God of wisdom, God of wealth and prosperity and many more. People see off the Ganesha on 11th day (Anant chaturdashi) with complete Hindu ritual of Ganesha Visarjan. They pray to God to come back again in next year with lots of blessings.
---
Long Essay on Ganesh Chaturthi (600 Words)
Introduction
Ganesh Chaturthi is a popular Hindu festival celebrated throughout India, in the states and UTs including Madhya Pradesh, Goa, Gujarat, Tamil Nadu, Karnataka and West Bengal and especially in Maharashtra. The Ganesh chaturthi celebrations in the city of Mumbai are the most sought after event and widely covered by print and electronic media. Mumbai being the financial capital of India and also the home ground of Indian film industry, make the celebrations more grand and opulent.
When is Ganesh Chaturthi Celebrated?
Ganesh Chaturthi is celebrated in the Gregorian calendar months of August-September. According to the traditional Hindu calendar, Ganesh Chaturthi is celebrated on Shukla Paksha of Bhadrapada month which is the sixth month of Hindu calendar. Bhadrapada corresponds to the Gregorian calendar months of August-September.
Ganesh Chaturthi History
The exact time when the custom of Ganesh Chaturthi was inducted is not known; however, it was hugely promoted by the Maratha warrior Chatrapati Shivaji Maharaj who lived around 17th century. This fact gives credence to the claim that the festival of Ganesh Chaturthi is over 500 years old.
After fighting several wars against the Mughal, Chatrapati Shivaji Maharaj started highly sponsoring and promoting the festival of Ganesh Chaturthi. Things remained as such till late 20th century, when an eminent Indian leader and freedom fighter further promoted the festival.
In 1892, the colonial British government of India introduced "Anti Public Assembly Legislation", imposing a ban on Hindu gathering for religious purposes or otherwise. It was then that eminent freedom fighter Bal Gangadhar Tilak, also popularly called Lokmanya Tilak, appealed to Hindus throughout the country to celebrate Ganesh Chaturthi to protest against the unjust colonial law and also to express their solidarity.
Thus, the festival which had been celebrated only in Maharashtra region till then was now introduced to other parts of India during late 1800s. Since then, the festival has only spread to other parts becoming more popular with each passing year.
Why is Ganesh Chaturthi Celebrated?
The festival of Ganesh chaturthi commemorates the rebirth of Lord Ganesha as per the Hindu mythology. There is an interesting story related to the rebirth of Ganesha and the festival.
The legend has it, that once lord Ganesha was guarding the premises of a palace inside which his mother, Goddess Parvati was bathing.
During his childhood Ganesha was an obedient boy and never disobeyed his mother; therefore, when Parvati instructed him to guard the palace until she finishes bathing, child Ganesha immediately took guard to stop any intruders.
Meanwhile, Lord Shiva reached there, looking for Goddess Parvati. Since, Parvati was Shiva's spouse, latter asked Ganesha to let him through. Ganesha however was adamant and hell bend to follow his mother's command.
This angered Lord Shiva, who in a fit of rage beheaded Ganesha. Upon returning and looking at her beheaded son, Goddess Parvati was so infuriated with anger that she took to the form of Maa Kali, thereby, threatening the very existence of world.
Sensing the gravity of situation and repenting on his own act, Lord Shiva ordered his followers to descend to earth and get the head of first child they meet, whose mother had her back to the child. Incidentally the first child they met was an elephant and as ordered they took its head. Shiva placed the elephant's head over Ganesha's body and brought it to life, thereby pacifying Parvati's rage and saving the world from destruction. Thus, the rebirth of Ganesha is celebrated as Ganesh Chaturthi in India.
How is Ganesh Chaturthi Celebrated?
Ganesh Chaturthi is celebrated mainly in central and southern states of India, especially in Maharashtra. It is also fervently celebrated in the eastern state of West Bengal. Though, Ganesha is a revered Hindu deity also in Northern Indian states, the festival of Ganesh Chaturthi though isn't much popular in north India.
The festival is celebrated both privately and publically for 11 days. People install clay Ganesh idols in their houses and venerate them till the festivities conclude.
Elaborate pandals (fabricated structures) are erected at community places and the statue of Ganesha is installed for the masses to worship. People offer modaks and other sweets to Ganesha.
On the last day idols are taken out for immersion into nearby water bodies amid a celebratory procession.
Conclusion
Ganesha Chaturthi is the festival when Hindus celebrate the birth of their God of wisdom and remover of obstacles. Ganesha's presence is considered auspicious for a new beginning or making new ventures. He is the most loved and revered God of Hindus. He is the only Hindu God who is worshipped by other faiths like Jainism and Buddhism.
Related Information:
More Information:
Essay on National Festivals of India