Holi is a major Hindu festival of India, celebrated in the Hindu calendar month of Phalgun. The festival lasts for one night and one day, beginning on a Purnima (full moon day) in Phalgun. It usually corresponds to March month of the Gregorian calendar. Holi is a festival of joy and love and is fervently celebrated in the Indian sub-continent, especially in India and Nepal. It is also called festival of colours, as people take to streets and play with colours. Unlike most Hindu festivals, Holi doesn't involve veneration of any of Hindu Gods or Goddesses and is thus purely celebrated for fun. Though, the night before Holi, a ritual of Holika Dahan is carried out, in which people burn their discarded belongings in a bonfire.
Long and Short Essay on Holi Festival in English
Below we have provided different essay on Holi, the most awaited annual Hindu festival of colors.
After going through the these Holi essay you will be able to answer many questions about holi like – why is holi celebrated, when is holi celebrated, how do people celebrate holi and what is the significance of holi festival, etc.
You can also use the information given here in school competitions – essay writing, speeches and debates, etc.
Holi Essay 1 (100 words)
Holi is a major Hindu festival, celebrated annually in spring season. It is the festival of colors during which people, streets and houses could be seen covered in different colors. It is also called the festival of love, as people play with colors, forgetting their old enmity and renewing the relationships.
Holi is a two day festival, which begins the night before the main festival with choti (small) holi, when large pyre is burned on streets as a symbol of Holika dahan (burning of the demoness Holika) symbolic to the victory of good over evil. The next day people play with colors and in evening visit each other exchanging greetings and sweets. The custom of visiting friends and relatives continues for over a week.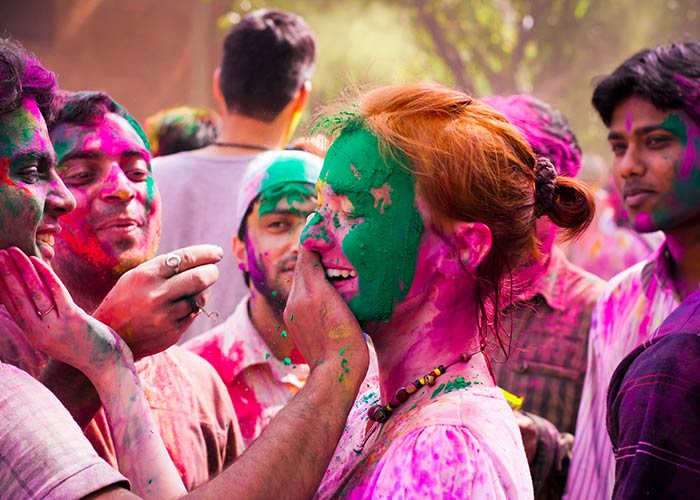 Holi Essay 2 (150 words)
Holi is a festival of colors celebrated by the Hindus throughout India. Hindus celebrate Holi as a festival of love and happiness, shedding animosity, greed, hatred and adapting to a new life of love and togetherness.
Holi is celebrated in spring season, in the Hindu calendar month of Phalgun, which usually coincides with the Gregorian calendar month of March, or sometimes even late February. It is a two days festival commencing on a full moon night with holika dahan. Main holi festival is celebrated the next day of holika dahan.  It also coincides with the harvest of wheat and is symbolic of prosperity and happiness.
Spring marks the end of winter and is preceded by summer. Therefore, the climate of spring is particularly pleasing, when flowers abound. Thus, holi is celebrated as the festival of colors, to commemorate nature's spring beauty and also the good harvest.
---
Holi Essay 3 (200 words)
Holi is one of the great festivals of India which is celebrated with great zeal, zest and enthusiasm. It is also called as the festival of colors during which people play with colors and splash colors on each other. Holi also signifies the triumph of good over evil as this was the day when evil king Hiranyakashyap was slayed by Narsimha, the half man and half lion incarnation of Lord Vishnu and saved Prahlad who was a devotee of him.
The celebration of Holi starts several days before the festival when people start buying colors, balloons, food items for the preparation of cuisines etc. Children are the one who are very much excited for Holi and start celebrating it in advance by splashing colors on their friends using water cannons or 'pichkaris'. Markets around the cities and villages get decorated with 'gulals', colors, 'pichkaris' etc.
Holi is also a festival of harmony where friends and relatives get together in the evening or visit their friends, family and neighbours and greet them with colors and sweets. The mouth watering delicacies of Holi like 'gujiya', 'laddoos' and 'thandai' add a flavor to the season of festivity. People hug each other on Holi and give a new beginning by forgetting all the hatreds and sorrows.
---
Holi Essay 4 (250 words)
Introduction
Holi, the 'Festival of Colors' is celebrated in almost all parts of India with great excitement. As per the Hindu calendar, it is celebrated on the full moon day of the 'Phalgun' month and in the month of March as per the Gregorian calendar. People celebrate the festival by coloring each other's face with dry as well as water colors. People also enjoy the festival by singing folk songs and dance.
The Celebration of Holi
One day prior to Holi, a ritual named 'Holika Dahan' is conducted in which a large heap of bonfire is burned in cities and villages. The 'Holika Dahan' symbolizes the burning of evil and negative powers and revisits the story of Holika, the evil sister of Hiranyakaskyap who tried to kill his nephew Prahlad by sitting in the bonfire. But by the god's grace Holika who had a boon of immortality was burned to ashes and Prahlad was saved unharmed. People also make rounds of Holika while chanting devotional mantras and singing bhajans to seek health and prosperity.
During the day, people play by splashing water colors on each other. Children throw water colours by using water cannons or 'pichkari' to enjoy the festival. In the evening, people dress up in attractive attire and visit their friends and relatives and hug them by applying 'gulal', the dry colors. People also sing folk songs and dance to the tune of famous Holi songs.
Conclusion
Holi is the festival which spreads love, brotherhood, harmony and happiness and symbolizes the victory of good over evil. It is the festival during which people forget their rivalry and hug their enemies forgetting all the hatreds and negativity.
Holi Essay 5 (300 words)
Introduction
Holi is a most favorite festival of all as it brings lots of joy and happiness. It is celebrated every year especially by the people of Hindu religion as a very important festival. It falls in the start of spring season generally in the month of March (or Falgun). Everyone waits for this festival with lots of enthusiasm and with special preparations of celebrating it.
Why do we Celebrate Holi?
There is a great story of Prahlad behind celebrating Holi. Once Prahlad (who was a great devotee of God) was tried to be killed by his own father as he denied worshiping his own father in place of God. His aunt, Holika, sat in the fire by keeping him in her lap on the order of Prahlad's father but he was saved by God as he was a true devotee and Holika was burnt in the fire even after she was booned to never get harmed by fire. From that day, people following Hinduism started celebrating the festival of Holi every year to remember the triumph of good over evil.
Burning of Holika
A day before colourful Holi festival, people burn a heap of woods and cow dung cakes in the night resembling the burning of Holika to remember that day. Some people follow the special ritual of burning the waste of 'sarson ubtan' massage of each family member in the Holika assuming that it will remove all the evils from house and body and bring happiness and positivity to home.
Conclusion
People play with colours with their family members, relatives, friends and neighbours. Kids of the house enjoy this day by throwing colour filled balloons to each other or using pichakari. Everyone hug and apply 'abeer' and 'gulals' to the forehead showing their love and affection to each other. Special preparations are done for this day like arrangements of sweets, chips, namkeen, dahi bade, pani puri, papadi, etc. Holi is the festival which spreads love and harmony among people.
---
Holi Essay 6 (400 words)
Introduction
Holi is a colourful and most important festival of India. It is celebrated annually in the month of March (Falgun) on Purnima or 'pooranmashi' by the people of Hindu religion. People wait for this festival very eagerly and enjoy by playing with colours and eating delicious foods. Children come out of their homes in the early morning with colours and pichkari to enjoy with friends. Women of the houses start preparing things for the Holi celebration especially delicious dishes, sweets, chips, namkeen and other things to welcome their neighbours, friends and relatives on Holi.
Holi – The Festival of Colors
Holi is a festival of joy and happiness which spreads colour and pleasure in the life of everyone. People throw water colours or colored powder (gulal) to each other and break all the barriers of discrimination between them. The significance behind celebrating this festival is the great history of Prahlad and his aunt Holika.
History of the Festival
Long ago, there was a devil king, Hiranyakashyap. He was the father of Prahlad and brother of Holika. He was booned by Lord Brahma that he cannot be killed by any man or animal, neither by any weapon, nor inside the home or outside or in the day or night. Getting such power he became very arrogant and ordered everyone including his own son to worship him instead of God.
Because of his fear, people started worshiping him except Prahlad as he was a true devotee of Lord Vishnu. After seeing such type of behaviour of Prahlad, Hiranyakashyap made a plan with sister Holika to kill Prahlad. He ordered his sister to sit in the fire by having Prahlad in her lap. Holika did so, but fortunately she got burnt in the fire and Prahlad was not harmed and even not touched by the fire as he was under the protection and blessings of God.
From then, people started celebrating this event as Holi festival after the name of Holika. This festival is celebrated to remember the victory of goodness over evil power. In the night or evening, a day before Holi, people burn a heap of wood in the nearby areas symbolizing burning of Holika.
Conclusion
Everyone enjoys this festival by singing, dancing, playing colours, hugging each other and eating delicious food. Holi is the festival which brings people closer and spreads love and brotherhood among people. People spend the festival with their friends, family and relatives with great joy and enjoy the special delicacies of the occasion.
---
Holi Essay 7 (500 words)
Introduction
Holi is a very famous festival of colours celebrated every year in the month of 'Phalgun' or March by the people of India with great joy. It is the festival of lots of fun and frolic activities especially for the children who start the celebration a week before and continue a week after the festival. Holi is celebrated by the people of Hindu religion all over the country especially in North India in the month of March.
Legend and Story behind the Festival
There are many stories and legends behind celebrating Holi in India for years. It is the festival of great importance and significance. According to the Hindu mythology, it is considered that Holi celebration was started long ago when Holika was burnt in the fire while trying to kill her own nephew in the fire.
It is believed that there was a demon king called Hiranyakashyap, father of little Prahlad who tried to kill his own son in the fire when Prahlad denied to worship him as Prahlad was a great devotee of the Lord Vishnu. When Hiranyakashyap failed in many of his strategies to kill Prahlad, he ordered his own sister, Holika to sit in the fire by taking Prahlad in her lap as she was booned for never getting harmed by fire.
However, this strategy was also failed as little Prahlad was a devotee of Lord Vishnu and he was saved by his God. Holika was burnt in the fire and Prahlad was saved. From that day, people of Hindu religion started celebrating Holi every year.
Holika and its Customs
The day before Holi, people make a heap of woods on the cross roads and burn it symbolizing Holika and celebrate 'Holika Dahan' ceremony. People also take many rounds of the burning Holika and worship it to get blessed with prosperity and good health by burning all the sins and diseases in the fire. There is also a custom in north India where people massage the body using mustard paste and then burn it in Holika hoping to get rid of all diseases and evils of the body.
How do we celebrate Holi?
The next morning after 'Holika Dahan', people celebrate the colourful festival of Holi by getting together at one place and throwing colors to each other playfully. Holi preparations start a week before the main festival. People, especially children, are highly enthusiastic who start buying different colours a week before the day.
Even they start playing with colours with their friends, neighbours and relatives with 'pichkari' and small balloons. The celebration gets started in the morning when people with lots of colors visit their friends and relatives and color them. Holi delicacies comprise of 'gujhiya', sweets, 'pani puri', 'dahi bade', chips etc which are enjoyed by the guests and as well as by the hosts.
Conclusion
Holi is the festival which is mostly focused on spreading brotherhood and love. The colors used in the festival are bright which showcases the prosperity and happiness. Holi also symbolizes the triumph of good over evil which is the soul of most of the Indian festivals. It also teaches us to follow the righteous path and to stay away from evils of the society.
---
Long Essay on Holi Festival – Essay 8 (1500 Words)
Introduction
Holi is a major Hindu festival celebrated with much fun and enthusiasm throughout India, as well as other countries of the sub continent. The customs and rituals of Holi celebration may vary between different regions of India, but all of them involve joyous playing with colours. It is a much awaited festival for playful adventurers as well as for the foodies, not to mention the children. Celebrated in the Phalgun month, the festival marks the arrival of spring and the end of winter. The celebration usually falls in late February or middle of March as per the Gregorian calendar.
Holi – a festival of Colors, Joy and Love
Holi is different from other Hindu festivals in the way that it doesn't require veneration of any deity, as is mandatory with other festivals. The festival calls for pure joy, with no religious obligations what so ever.
It's impossible to imagine Holi celebrations without colours. It is in fact also called- the festival of colours. People play with coloured powders locally called gulal. They spray gulal on friends and family members, greeting each other "Happy Holi" and hugging. Children could be seen playing in groups with various types of water guns (pichkari).
The houses and streets all get coloured with a combination of beautiful and bright red, yellow, blue, orange and violet. With the chilly winds of winter gone, people wear lose clothes and sprinkle each other with colours and coloured water. Everyone is painted in different colours from tip to toe; so much so, that it takes a moment or two to recognize even one's closest friend.
The Legend of Holika Dahan
Holi is a two day festival, beginning on the evening of full moon day (Purnima) in the Hindu month of Phalgun. The colour Holi is played on second day morning.
The first day of Holi is called Choti (Small) Holi and a ritual of Holika Dahan is followed in the evening. Bonfires are made at street junctions or other suitable places in market, roads, streets, colonies etc. People burn their old belongings in the fire, symbolic to burning their feelings of envy, hatred and animosity. The ritual also signifies the victory of good over evil.
One of the commonly accepted legends of Holika Dahan is associated with the demon king Hiranyakashyap and his son Prahlada. Prahlada was an ardent devotee of Lord Vishnu; this infuriated Hiranyakashyap, who thought of himself as the God, in wake of the immortality boon that was granted to him. However, his son Prahlada was adamant in his resolve to worship Vishnu and rejected worshipping his own father, Hiranyakashyap.
Dejected by his own son, Hiranyakashyap got enraged and started subjecting Prahlada to torture, in order to persuade him to relent. When Prahlada refused regularly, Hiranyakashyap conspired with his sister Holika to trick Prahlada on sitting over a burning pyre with her. Holika supposedly had a boon granting her protection from burning in a fire. The evil plan was to burn Prahlada in the pyre, while Holika will be protected by the boon.
Holika finally succeeded in agreeing Prahlada to sit in the pyre with her. Prahlada agreed as he had extreme faith in his deity Vishnu. Holika got seated in the pyre with child Prahlada in her lap. As soon as the pyre was lit, Lord Vishnu intervened to save Prahlada and Holika was burnt to ashes, despite the boon. The boon granted to Holika didn't worked, because; the immortality was granted to her only if she entered a fire alone.
Thus, people burn pyre on Choti Holi symbolic to the burning of evil Holika and also to welcome the colourful celebrations the next day.
Lath Mar Holi at Barsana
In the compound of Radha Rani temple at Barsana a small town near Mathura, the custom of Lath Mar Holi is being celebrated since centuries. Men from the nearby Nandgaon, visit Barsana where women would hit them with sticks, traditionally called lathis in Hindi. Men on the other hand, would protect themselves with shields and those who got caught are made to dance wearing women attire.
The Lath Mar Holi of Barsana has become so popular that millions of native Indians as well as foreign tourists visit Barsana to witness the celebrations.
Lose Your Inhibitions and Play with Colours
The festival of Holi has many positive effects on one's personality as well as social relations. It is a festival to discard your shyness and make new friends. What could be the better way to make new friends than to by play with colours?
The festival helps you to identify the inner joy, which had been lying suppressed inside you. Discard your shyness, hesitation and all the emotions those have been holding you back in daily life. With just a little effort from your side, you will transit to a new world of colour, love and joy.
Spray colour on whoever you can, without any hesitation, thus, you will make new friends and will sure remember the celebrations. All you need to do is to lighten your soul by shedding all your inhibitions.
Time to Forgive and Forget
Holi is a festival of joy. True joy is a matter of soul rather than the body. If we are physically fit, but keep the feeling of hatred or animosity against someone, we cannot be happy in true sense. Whether you have done wrong onto someone or someone has done wrong onto you, in both the cases it's your inner joy that suffers.
The celebration of Holi provides a marvelous opportunity to turn your enmity into friendship or repair a broken relationship. Shed all your hatred and forgive the sinner, or forget if someone or something has offended you or made you sad. When we shed all the bad feelings and open our arms to the joy and a new world, we will be happier.
The custom of visiting houses of friends and relatives is a major ritual during the Holi season. The custom continues for weeks even after the Holi celebrations. It is the best time to repair broken relationships or to renew the forgotten ones.
Indian Holi Delicacies for the Platter
Holi is undoubtedly the festival of colours, but it is also a festival of delicacies for those with an appetite for sweets and other mouthwatering dishes. There are hundreds of literally mouth watering dishes prepared during Holi, in various corners of India. Every region and culture of India has its own signature Holi delicacy.
The air is filled with a mix of sweet aroma and the essence of numerous fried delicacies those are prepared in abundance in every household. Gujhiya, a sweet delicacy popular in north India, prepared by deep frying dough pockets filled with khoya (a kind of milk food) and nuts, is one of my favourites. Dahi Vada is another Holi delicacy which has its roots in northern India.
In the state of Maharashtra, Puran Poli is prepared during the Holi festival. It is also Maharashtra's festival favorite and is prepared in almost all the festivals. It is basically a flat dough chapati filled with sweet chana dal.
This Holi 'Say no to Synthetic Colours'
Holi being a festival of colours, lots of temporary shops could be seen selling rather cheep colours. The colours available in form of powder often constitute toxic metals like copper, mercury, aluminum and lead. They may also contain harmful dyes and paints, not suitable for use by humans.
Use of cheap synthetic colours, results in a number of ailments, ranging from a mild skin rash to as serious as cancer. Cases of skin lesions, burning sensation and eye irritation are reported during the Holi festival, possibly due to the toxic compounds in the colours. Synthetic colours are often prepared with a base of corn starch or flour, whose contamination makes the situation worst.
Fortunately, people are getting more aware about the harmful effects of synthetic colours. A custom of using naturally derived colours is developing and is being practiced widely. By switching to colours derived from natural resources, we not only save our health but the health of environment as well. Natural colours when enter soil or water resources do not pollute them like the synthetic colours do.
Natural colours are derived from natural harmless minerals like gulal, mehndi, turmeric etc. Flowers are also used to produce colours, like red colour is produced from roses; yellow colour is produced from sunflower. Besides, many natural colour dyes can be produced from plants and flowers.
Conclusion
Holi is a festival of colour, celebrated with fun and joy. Get ready to drench in water and colour, but also be careful to not to harm yourself and others. Open your mind, shed your inhibitions, make new friends, pacify the unhappy ones and repair broken relationships. Be playful but also be sensitive to others. Don't trouble anyone unnecessarily and always keep your conduct composed. Last but not the least; take a resolve to play only with natural colours this Holi.
Related Information:
Related Essay: