Spring season is the favorite season of the year and liked by everyone than other seasons. Students may be assigned by their teachers to write some paragraphs or complete essay on spring season. So, we have provided here various paragraphs and essays on spring season under different words limit. You can select any spring season essay according to your need.

Long and Short Essay on Spring Season in English
Spring Season Essay 1 (100 words)
Spring season is a pleasing season of everyone. Spring season in India falls during the months of March, April and May. It comes after a long three months of winter season during which people feel relief from the winter cold. In the spring season temperature become moderate and everywhere looks green and colorful because of the blooming trees and flowers. After a long wait, finally time comes when we start wearing lighter clothes and can go outside the door more often. Small children do kite flying. Holi festival falls in the starting of this season when everyone fully enjoy the coming of spring by playing holi with colors and water.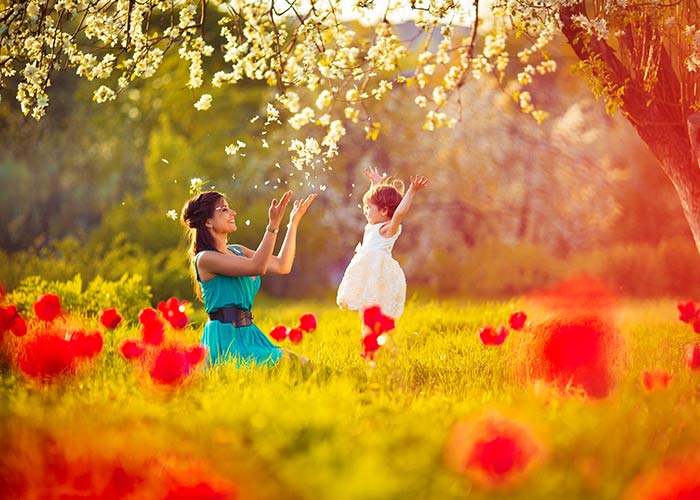 Spring Season Essay 2 (150 words)
Spring comes after winter season in the months of March, April and May in India. This season ends in the form of summer season. Spring starts in the month of March and ends in the month of May in India. In some parts of the India, people do not fully enjoy this season because of the warm atmosphere. Temperature becomes very normal, not too cold like winter and not too hot like summer during the whole spring however at the end it starts warming slowly. At night, weather becomes more pleasant and comfortable.
Spring season is very effective; when it comes it wakes up everything in the nature like trees, grasses, flowers, crops, animals, human beings and other living things from the long sleep of winter season. Human beings wear new and light clothes, trees get full of new green leaves and branches and flowers become more fresh and colorful. Everywhere fields become full of new grasses and thus entire nature looks green and fresh-looking.
Spring Season Essay 3 (200 words)
Spring season is known as the most pleasant season in India. Everything in the nature become active and feels new life on the earth. Spring season brings lots of happiness and relief in the life after three months long winter season. Spring falls after the winter and before the summer season, in the months of March, April and May. The occurrence of spring season varies from country to country as well as temperature of this season also varies from place to place in the country. Cuckoo bird starts singing songs and enjoys eating mangos. Everywhere in the nature becomes full of aroma of romance such as flowers start blooming, trees start getting new leaves, sky becomes cloudless, rivers murmur mildly, etc. We can say that nature joyfully announces loudly that spring has come; now it's time to wake up.
The beauty of this season and all around happiness makes mind very creative and gives energy to the body to start new works with full confidence. The sound of birds in the early morning and moon light in the night, both become very pleasant, cool and calm. Sky looks very clear and wind becomes very cool and refreshing. It is important season for farmers as their crops ripen in the fields and it is time to cut them. Everyone feels joy and happiness as this season is a season of festivals like Holi, Ram Navami, Hanuman Jayanti, Good Friday, Easter, Bihu, Navroze, Basakhi, etc.
---
Spring Season Essay 4 (250 words)
Introduction
Spring season is the best and most favorite season of the year. People (especially kids) are fond of this season because of its beauty, slight cool and comfortable nature. It is the queen of all seasons of the year and considered as the favorite season of the poets. It comes after winter season and before summer season. It begins from the month of March and ends in the month of May. On the arrival of spring season everything on the earth looks adorable and charming. All the trees gets new clothes in the form of new leaves, flower starts blooming and fragrancing, birds start dancing and singing on the tree branches, sky becomes clear, cloudless and blue, fields become full of green grasses and other so many changes occur in the nature.
Spring season is the season of flowers and festivals thus brings lots of joy and happiness. Colorful and beautiful flowers completely win the heart and green grasses give us a nice ground to walk in the garden. Beautiful flying butterflies catch our eyes often in the morning and evening. Day and night both become very pleasant and cool. Environment becomes full of charming sounds of bees, cuckoo, and other birds in the early morning.
Season of Joy and Happiness
Spring season provides great pleasure, joy and happiness. There is too much cold in winter, too hot in summer and it becomes mud and dirt everywhere in the rainy season that's why spring is called as season of joy and happiness. Everyone enjoy this season to a great extent and wants to grab its all attraction between the winter and summer.
Spring is the season of joy and happiness for all the living beings like tree, plants, flowers, animals, birds, human beings, etc because it is neither hot nor cold. Days and nights become almost same length, neither too short nor too long. Everyone becomes fed up of cold in winter, hot in summer and mud and dirt in rainy season.
Conclusion
The real beauty of spring nourishes our health and we forget about all the sorrows of life. It fills heart with lots of joy and happiness. So, we really enjoy this season with pleasant sights everywhere.
Spring Season Essay 5 (300 words)
Introduction
Spring season falls in India in the month of March, April and May between winter and summer season. It is known as the King of the all seasons and famous as nature's youth.
Advantages of Spring Season
Spring season gives nice feelings, good health and new lives to the plants. It is a most beautiful and attractive season gives nice weather to flowers to bloom. Bees and butterflies makes round and round on the flowers bud and enjoy sucking tasty juice (essence of flowers) and make honey. In this season people enjoy eating King of fruits, mango. The bird cuckoo sings nice songs by sitting on the leafy twig and wins everyone's heart. A very sweet and cool air blows from the south direction which brings nice smell of flowers and touches our heart. It is the season of festivals of almost all religions during which people do nice preparations and enjoy get together with their family members, neighbors and relatives. It is the season of farmers when they bring new crops to their home and take some relief. Poets get good poetic imaginations in their minds and write sweet poems. In this season, mind becomes more creative and full of nice thoughts.
Disadvantages of Spring Season
There are some disadvantages too of the spring season. As it is the end of winter season and start of summer season, it is the more sensitive season to the health. Various epidemic diseases like common cold, smallpox, chicken-pox, measles, etc are common so people have to take extra preparations of their health.
Conclusion
Spring season is the king of all seasons of the year. During the spring season nature appears in its most beautiful form and fills our heart with lots of pleasure. In order to fully enjoy spring season we should take care of the health and get vaccinated against various epidemic diseases.
---
Spring Season Essay 6 (400 words)
Spring season remains for three months however seems like remains for short duration because of its all around beautifulness. Birds start singing sweet songs in the welcome of spring season. Temperature remains normal, neither too cold nor too hot in this season. It makes us feel like the whole nature has covered itself with green sheet because of the natural greenery everywhere. All the trees and plants get new life and new form as they develop new leaves and flowers on their branches. Crops get fully ripen in the fields and look like real gold everywhere.
New and light green leaves starts putting on the branches of the trees and plants. After a long silence of winter season, birds start singing and sounding here and there near to the houses or in the sky. On the occurrence of spring, they feel fresh and break their silence through their sweet songs. There activities make us feel that they are feeling so happy and thanking to the God for giving such nice weather.
On the start of this season, temperature becomes normal which makes people feel relief as they can make some outing without having lots of warm clothes on their body. Parents enjoy with their kids by arranging some picnics during the weekends. Buds of the flower get bloom in their full swing and welcome the nature with their nice smile. Blooming flowers give a beautiful sight and romantic feelings by spreading their sweet fragrance all around.
Human beings and animals feel healthy, happy and active. People start doing their lots of pending works and projects because of the very low temperature of the winter season. Very cool climate and normal temperature of the spring makes people do much work without getting tired. Everyone starts nice day from the morning and in the evening, even after lots of rush, feel fresh and cool.
Farmers feel very happy and relief as they bring new crops to their home successfully as a reward after long labour of many months. We celebrate Holi, Hanuman Jayanti, Nav Ratri, and other festivals in the spring season with our friends, family members and relative. Spring season is a nice gift to us and whole environment from the nature and give us important message that sadness and happiness continues one after another. So never feel bad and keep some patience, because there is a good morning after every black night.