We have provided very simple and easily worded speech on Swachh bharat abhiyan or Swachh bharat campaign. It is a clean India drive run by the government in 2014 to make India a clean India. It is a big social issue in India that how to solve the problems arise because of the lack of cleanliness in India. Dear students, you are at right place, use any of the Swachh bharat abhiyan speech given below according to your need and choice to participate in the cleanliness drive of India.
Being the future of the country, you can lead the Clean India Campaign in your society, community, schools or colleges to initiate cleanliness in the surrounding areas and make this drive a successful campaign.
Speech on Swachh Bharat Abhiyan
Swachh Bharat Abhiyan Speech 1
Good morning to all. My name is …… and I read in the class…. As we have gathered here on this great occasion, I want to say something in my own words in front of this big crowd about the Swachh Bharat Abhiyan. I especially choose this topic because of the increasing need of the cleanness all around the India which can only be done by the support of each and every citizen of the country. The great person of India, Mahatma Gandhi had said that, "Sanitation is more important than Independence". India is still a developing country because of the poverty, lack of education, lack of cleanliness and other social issues. We need to eliminate all the bad reasons from the society causing obstruction in the growth and development of our country.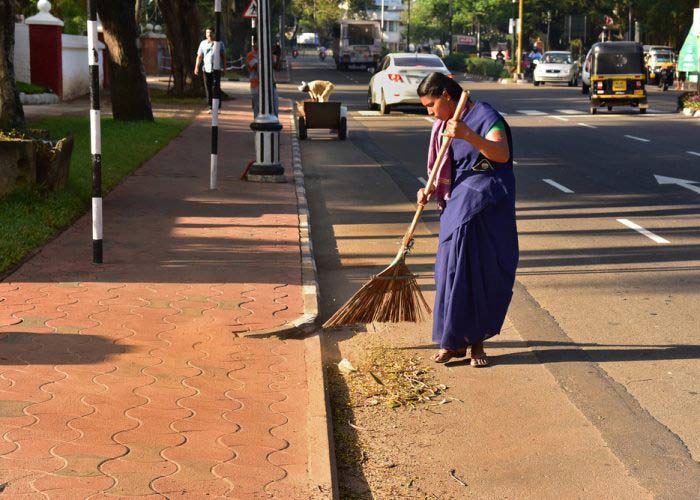 And I think that cleanliness drive is the best start of eliminating social issues from the society as well as promoting the growth of country with its citizen's individual growth. Only the success of cleanliness campaign may bring a huge positive change in the India. It belongs to the internal and external growth and development of everyone living in India which shows us the completeness of slogan of "Clean, Happy and Healthy Citizens imparts Healthy and Developed Nation". Swachh Bharat Abhiyan or Clean India Campaign was started by the prime Minister of India, Narendra Modi in 2014 on the Gandhi Jayanti (145th birthday anniversary), 2nd of October.
Mahatma Gandhi was well aware of the weakness of the Indian rural people during his time of Indian Independence Movement. He dreamt of making this country a clean country and even he had emphasised a lot by many means among rural people however could not completed because of the incomplete participation of the people. After many years of independence, we are still living in the dirty environment and putting our lives on danger every moment. According to the data, around 30% of the rural people do not have safe access to the toilets and use open defecation system in the fields. The Indian President, Pranab Mukherjee has said while addressing to the Parliament in June 2014, "For ensuring hygiene, waste management and sanitation across the nation a "Swachh Bharat Mission" will be launched. This will be our tribute to Mahatma Gandhi on his 150th birth anniversary to be celebrated in the year 2019".
In order to ensure the hygiene all over the country, it is very necessary to solve the problems of sanitation, safe toilet, and proper waste management. The prime minister of India, Narendra Modi has emphasised people about "Clean India" during his speech on August 15, 2014 on the Indian Independence day however the mission was launched successfully on 2nd of October in 2014. This mission has targeted its completion till 2019, the 150th birth anniversary of the Bapu. This mission targets to fulfil the sanitation facilities to all as well as eliminate all the unhealthy practices of people by 2019. It was 25th of September when the first cleanliness drive was started by the Indian prime minister. It is counted as the big awareness campaign in India which has become viral.
Proper hygiene and cleanliness has the capability to change the global perception about India and may attract more tourists every year which in turn may increase economy of India to a great level. According to this campaign, every Indian citizen has been requested to devote their 100 hours only annually for cleanliness in India. There is a norm to make separate toilets for boys and girls in each and every schools and colleges all over the India for the safety and hygiene by August 15, 2015. As a student and most importantly an Indian citizen, I too requests all the people gathered here to participate in this mission to compete it by 2019.
Jai Hind, Jai Bharat.
Swachh Bharat, Shashakt Bharat.
Swachh Bharat Abhiyan Speech 2
Good morning to the respected Principal, teachers and my colleagues. My name is……, I read in class…. First of all I would like say a big thank to my class teacher to give me some time on this great occasion to give my opinion on the big campaign of Swachh Bharat Abhiyan in front of you all. It is called that youths of the country are the future of the country. So, as being a citizen, student, and youth of the country I understood myself responsible for the country development and chosen this topic to improve the awareness about this mission among people of India. This mission is also called as the Clean India Mission or Clean India Campaign. It is a big national campaign run by the Indian Government in 2014 on 2nd of October. The date of launch of this campaign was chosen 2nd of October which is the birth anniversary of the Mahatma Gandhi because it was the dream of Bapu to make India a clean India.
The campaign of clean India was officially launched at Rajghat, New Delhi by the Prime Minister, Narendra Modi after cleaning the road by himself. This mission is the biggest ever cleanliness drive when approximately 3 million government employees including school and college students took part in the event. The Indian Prime Minister has nominated the nine famous personalities of the India while launching the campaign to initiate this campaign in their own regions as well as bring fluency in the drive. He also requested all those nine personalities to call another nine people to continue this chain (like a branching of a tree) until the each and every Indian gets involved in the mission because it has to be completed till 2019, the 150th birth anniversary of Mahatma Gandhi.
This mission aims to make available the individual sanitary latrines, converting dry latrines into low-cost sanitary latrines, hand pump, proper bathing, sanitation, set up of sanitary marts, drains, soakage pits, solid and liquid waste disposal, increase people awareness about health and hygiene, maintain environmental and personal hygiene. Earlier to this mission in 1999 on 1st April, the government of India has implemented the sanitation programmes called Total Sanitation Campaign (TSC) however not was so effective even after launch of incentive scheme called Nirmal Gram Puraskar in order to boost the TSC. Later on 1st April in 2012, the same programme was renamed as Nirmal Bharat Abhiyan (SBA) and finally it was re-launched as Swachh Bharat Abhiyan on 2nd of October in 2014.
The main objective of this campaign is to achieve the vision of a "Clean India" by 2019, 2nd of October (150th birth anniversary of Mahatma Gandhi). This mission has been declared by the Indian government as "beyond politics" and "inspired by patriotism" to give its credit to all citizens of India. Some other specific objectives are complete elimination of open defecation in every area, eradication of manual scavenging, promotion of reuse and recycling of municipal solid wastes, bring behavioural changes to people regarding hygiene and health, link it to public health and facilitate private-sectors to hugely participate in this mission for capital expenditure and maintenance.
Jai Hind, Jai Bharat.
Swachh Bharat, Khushal Bharat.
Swachh Bharat Abhiyan Speech 3
Good morning to my respected Principal and teachers. I…… read in class…… want to give my opinion over the Swachh Bharat Abhiyan in front of all of you at this special occasion. I have especially chosen this topic to be part of the campaign and increase its awareness among public. Swachh Bharat mission is a big campaign ever in India because around 3 million government employees and students have taken part on the day of its launch. This mission seeks the active participation of the people of any age group from all corners of the country to be completed till 2019, 2nd of October, the 150th birthday anniversary of the Mahatma Gandhi. This campaign was especially launched on 2nd of October in 2014 (145th birth anniversary of the Mahatma Gandhi) to fulfil the vision of clean India of Mahatma Gandhi.
Mahatma Gandhi had dreamt of clean India and said that, "Sanitation is more important than Independence". According to the data of 2011 census, it has been estimated that only 32.70% of the total rural population has access to the toilets. According to the UN report, India is a country where largest number of people in the world use open defecation system. The nationwide cleanliness campaign of the Prime Minister Narendra Modi "Swachh Bharat Mission" was started from the Valmiki Basti in New Delhi. He had requested the 1.25 billion people of India to join the campaign while addressing the nation on the day of launch.
He himself swept the pathway of Valmiki Basti after paying tribute to the memorials of Mahatma Gandhi and former Indian Prime Minister Lal Bahadur Shastri on their birth anniversaries. He said that "Swachh Bharat Campaign logo is not just a logo, through it Gandhiji is watching us and we all should clean India. I am not claiming that the newly elected government is doing everything. Be it temples, mosques, gurudwaras or any place, we must take efforts to clean our surroundings. Cleanliness is not only the responsibility of the 'safaai kaamgar', it is the responsibility of 125 crore Indians. If Indians can reach Mars at a cheap cost, can we not clean our neighbourhoods?"
Swachh Bharat Abhiyan has following objectives to: make available individual toilets, eliminate open defecation, enhance public awareness for cleanliness, promote the use of latrine among common public, promote behavioural changes, keep villages clean proper disposal of solid and liquid wastes, set up water pipelines in villages, ensure water supply, etc. This mission is the ultimate goal to make our country a clean and developed country forever having clean and happy citizens.
Jai Hind, Jai Bharat.
Clean Bharat, Happy Bharat.
---
Swachh Bharat Abhiyan Speech 4
My name is……, I read in class……. First of all I would like to say good morning to the respected teachers. I am very grateful to my class teacher that she trust on me and gave me a chance to show my talent of speech in front of you. I have selected the topic of Swachh Bharat Mission, a Clean India Campaign because of its necessity and big responsibility of all of us. It is a mass movement run by the government to make India, Clean India by 2019. Mahatma Gandhi, who is also known as Bapu or father of the nation, has always emphasised people on swachhta for their healthy and prosperous life however could not became so effective because of the improper co-operation of the people.
Keeping in mind about India's cleanliness and health, Indian government has launched a campaign called swachh bharat mission on 2nd of October in 2014 (145th birth anniversary of Bapu) and aimed to be completed till 2nd of October 2019 (150th birth anniversary of Bapu). This mission is implemented to cover all the rural and urban areas for maintaining the cleanliness all over India. The Indian Prime Minister Narendra Modi has said while launching the mission that, "I do not make any claim that only the newly elected government has done everything. All governments have done something or the other to achieve cleanliness in the country; I greet all of them for this. Swachh Bharat mission is beyond politics. It is inspired by patriotism and not politics."
Cleanliness is not limited to any person or place, it is the responsibility of everyone to clean themselves as well as their surroundings to really make India a clean India in near future. It is the combined responsibility of 1.2 billion people living in the country. In order to make this campaign an effective and successful mission, Indian Prime Minister has planned to make a chain of nine people. On the day of launch of mission, PM has nominated nine Indian personalities to involve in the mission in their own areas in order to initiate this campaign. He also requested to them to again call another nine people to join the campaign to continue this chain till the message of campaign reaches to everyone in all corners of country.
The aim of this campaign is to maintain cleanliness and hygiene all around the India by completely eliminating the open defecation in country. The maintenance of cleanliness and hygiene in India would bring the great opportunity in country to enhance its economic status by improving the tourism to India as well as keeping its citizens healthy and happy. Cleanliness would keep everyone happy and healthy in all aspect physically, mentally, socially and intellectually by reducing the chance of diseases.
Jai Hind, Jai Bharat.
Clean India, Disease Free and Economically Strong India.
More on Swachh Bharat Abhiyan:
Swachh Bharat Abhiyan Slogan and Quotes