Here we have provided a variety of speech on adult education in India for the students under various words limit according to their needs and requirement during event celebration or other competition. All the speeches given below are very simple and easy, written by using small sentences for the students. Students may select any of the speeches according to their needs. Students can participate in the speech recitation during any event celebration in their school without hesitation.
Long and Short Speech on Adult Education
Speech 1
Good morning to the respected Principal sir, teachers and my dear friends. My name is…., I study in class…. I would like to speech on the topic of adult education in India. As we all know that education is very important for all age group people and it is a lifelong process. The education process is not limited to any age, person, place or other limitation of life.
It can be continued all through life because it does not end with schooling. Individual education plays a great role in the development and growth of life, person, society, and country. Being a democratic country without educated people is useless. India is a sovereign democratic republic country struggling hard for becoming a developed country like other countries in the world.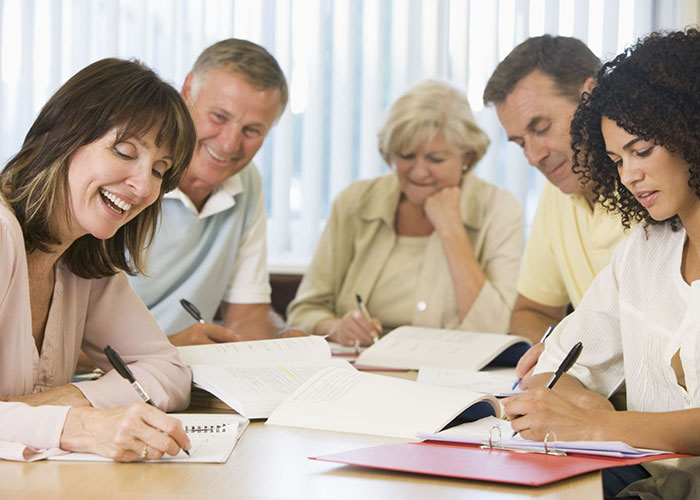 Education helps a person to develop to its fullest extent and makes one able to perform duties and responsibilities according to the interests, efficiency, and abilities. The level of education in India in the past time was very much anxious however it is being better day by day. The education status of an adult in India is very bad however going ahead on the road of planned progress. There have been some revolutionary changes as well in Indian society. A modern adult needs to tackle the complexities of society by understanding the need for a rapidly changing world.
There should be a good education system for all the citizens to fight the social evils of poverty, unemployment, ignorance, ill-health, illiteracy, child abuse, molestation, etc in society. All social evils can be abolished only through the tool of education. There is illiteracy in Indian society because of the lack of proper adult education. Adult education is the only tool to remove illiteracy from society. Adult education can be categorized under fundamental education, mass education of people, workers' education, further education, basic education, community education, and social education, etc in order to educate the people at different levels. According to Mahatma Gandhi, adult education can be said as education for life, through life and throughout life.
Adult education is necessary for the personal enrichment of the people, effective participation in many areas like social, political, international level affairs, professional advancement, etc. Adult education improves individual peacefulness, enhances working efficiency, leads towards progress in life, strives the learning in society. Adult education is the part-time education given to the 15-35 years age group people who never attempted or some schooling before. Adult education aims to prepare adults for a social, economic, civic and political role.
According to the survey, it is found that countries having low literacy levels are economically backward which realizes the importance of adult education for the countries to progress. Adult literacy raises the standard of living and brings economic development and social transformation in the country. The government of India has made adult education as a matter of great appreciation under the project of "Education for All" by giving a call to millions of adults for education.
Thank you
Speech 2
Good morning to the excellencies, principal sir, teachers, and my dear colleagues. My name is…, I study in class… As we are gathered here to celebrate this occasion, I would like to speech on the topic of adult education. Our country, India is still counted as a developing country because of the lack of economic growth and adult literacy. Adult illiteracy is one of the major social issues in the path of development of the country. Adult education awareness is very necessary to spread in society because education is the only tool that can enlighten every corner of the country. Adults occupy a big section of the society and we can say that a high percentage of a big section is illiterate that's why the Indian economy status is weak. This higher illiterate section in our country causes a serious effect on development. The country's development depends on the development of each individual living in the country. Weaker section of the society needs to be raised, well informed and aware by giving proper education. They should be given knowledge about the importance of own education in life and work hard for their children's education.
Many steps have been taken by the government of India to promote and spread information about adult education in the form of camps arrangement, special classes, etc at various places. Some people do not get study as their daily earning become very less, not enough for two times meals, in such cases, they should be provided additional financial assistance to make the adult education first priority. They should be motivated for life long learning and involvement in improving personal as well as the country's economic status.
Earlier, the education system in India was very bad in which only the fortunate people were given a good education in the schools however low cast people were not allowed to the entrance to the school, this system had created a big gap between literate and illiterate people of the society. Weaker sections people were given a job by literate people at a very low cost. After a long-time practice of this phenomenon, weaker section people and their new generations became more weak with time. India is a highly populated country, so it is a very difficult task to educate all the illiterate people of India. According to the survey in 2008, it is found that almost 28% of the world's illiterate people are from India alone. India still has almost 45,000 villages without primary school.
Seeing the poor condition of India, adult education has been a great necessity. It is also very clear that adult people may not interested in the study because of their low economic status and lack of time. In such a condition, there is a need for a special awareness program to aware of almost all the uneducated people of the society towards the importance of adult education. The adult education program was first time launched by the government of India in 1978 which has covered around 94,000 centers, yet many people are still illiterate in the country. In order to attract and motivate more adult people towards study, interesting things like television, audio, video systems, radio, films, etc should be used.
Thank you
Speech 3
Good morning to the respected sir and my dear friends. My name is…. and I study in class…standard. As we have gathered here to celebrate this occasion, I would like a speech on the topic of adult education in India and its importance. First of all, I would like to say thanks to my class teacher to give me this opportunity to speech here. India is a democratic country however illiteracy has made its democracy almost meaningless. Education of all age groups people plays a great role in lifting the nation's economic condition to the heights of progress. There is a huge percentage of the total population is illiterate in India which is very poor. Adult education is very necessary for India as it is a powerful tool for progress in the country. An uneducated adult can never understand the value of education in life so his/her next generation can also be illiterate as he/she understand that only earning for two-time meals is enough for living. He never understands his/her responsibility towards family, society, and country.
The vast section of illiterate people needs a compulsory and effective education plan as well as active support and co-operation of the government and other educated people of the society. Social education is needed for them to guide in daily healthful activities and earn better to strengthen the financial condition. Ignoring education is more sin than being illiterate and they are more burden to society. There is hope for progress in the country through spreading awareness about adult Education. The purpose of education is to bring some good behavioral changes in the human being as well as make them able to understand everything related to life and their benefits. The best education teaches everyone to adopt a positive approach by removing all the negative thoughts and activities.
Illiteracy in India has not only some reasons, but there are also many reasons affecting the education of the weaker section of society. Some people feel shame while studying in their later age that's why they should understand that learning is not limited, however it is a continuous process and can get at any age of life. Being in touch with the learning and knowledge all through life is very important for everyone to go together with a competitive and ever-changing environment. Some people like to sit and talk among their friends instead of getting an education so they should be motivated towards education accordingly. Some persons keep their books far and feel relax (just like a huge burden has been out of their head) just after getting a job. So there are varieties of illiteracy in society. It needs some effective and regular plans to bring learning and education in practice for a whole life.
Thank you
---
Speech 4
Good morning to the excellencies, respected Principal sir, teachers, and my dear friends. My good name is…, and I study in class…. As we have gathered here in order to celebrate this occasion, I would like to raise the topic of adult education in India through my speech over adult education. Lack of proper education in Indian society (especially adult education) is the reason for almost all the social evils in our country. People have been habitual to remain illiterate and spend their whole day just in earning two times meals at low cost and hard work. They only know that life is that's all, however, never know that being illiterate is like a sin especially when they get a chance to study but deny. Illiteracy is the root of all causes hindering the progress of the country.
Knowledge brings everyone in the light whereas illiteracy takes people towards darkness. People's ignorance towards education and their illiteracy level become the reason of their all sufferings. It is very necessary for the adults of the country to be educated in order to make the future of the country as well as their next generations. They could not be educated earlier in the lack of sources for education however now they have a golden opportunity of educational resources so they must study. Adult illiteracy in society has been a serious threat. Because of illiteracy they easily get involved in the bad works to earn money for their living. There is a need to understand the strength of the problem and attract adult people towards education by offering them jobs and food.
There are many ways to attract them towards learning and enable them to make a better career. They should be given the facility of part-time education, vocational education, modern libraries in villages having a collection of educational and informative books, etc.
Thank you