Children's Day in India is celebrated on 14th November on the birth anniversary of the first Prime Minister of India- Pundit Jawaharlal Nehru; or 'Chacha Nehru' as he was fondly referred to by the children across India.
Nehruji believed that the prosperity and growth of a nation tomorrow depends on how its children are loved and nurtured today. This is the reason he shared a deep and cordial relationship with the children of India irrespective of their ethnicity, religions and beliefs. There had been numerous incidents during his tenure as the Prime Minister when he had gone out of way to just to meet the children who were part of the crowd. He used to say that 'children are like flower buds in a garden and should be carefully nurtured'.
Speech on Children's Day for Students | Speech on Children's Day by Principal | Children's Day Speech for Teachers | Welcome Speech for Children's Day Celebration
Slogans on Children's Day in English
Jawaharlal Nehru well understood the need of primary education to every child- during his tenure as the Prime Minister he guaranteed primary education to every child, irrespective of caste, creed, religion or ethnicity.
During his tenure he had taken many decisions for improving the social and educational status of underprivileged children.
On children's day we are reminded of the role our children will play in the nation building tomorrow. It teaches us to love the children, nurture them instilling good moral values and educate them; so that they can contribute to the development of the nation tomorrow.
Unique and Catchy Slogans On Children's Day
"What an essay says in thousand words; a slogan expresses in a single line."
We have provided below Slogans for Children's Day to inspire children and also to convey a message to the elder's of the society; a message that it is in their hands the future of the children of today and the nation of tomorrow lies. The way we treat our children today will shape the future of the nation tomorrow. Spread the word among family and friends by means of these slogans and be the for-bearer of a positive change. I hope you will like these Children's Day Slogans: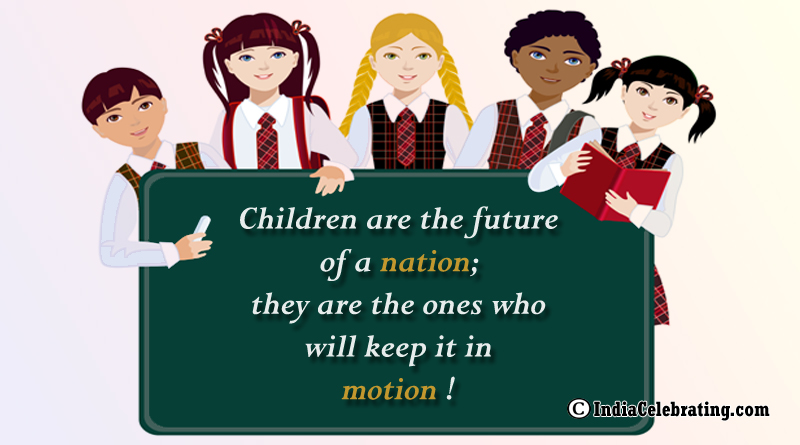 Children are the future of a nation; they are the ones who will keep it in motion!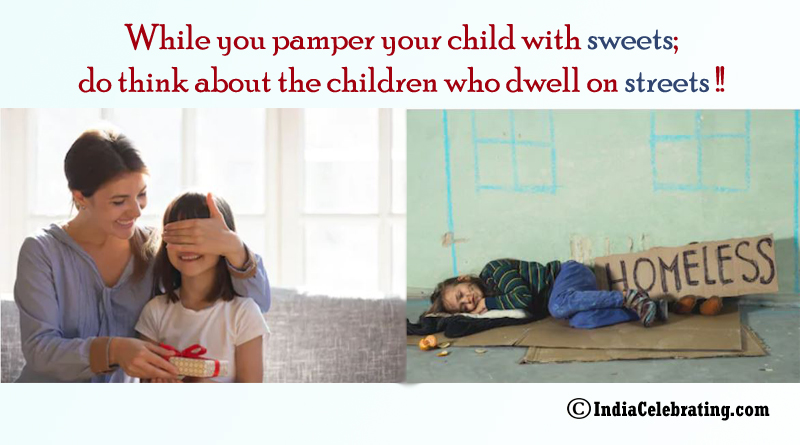 While you pamper you child with sweets; do think about the children who dwell on streets!!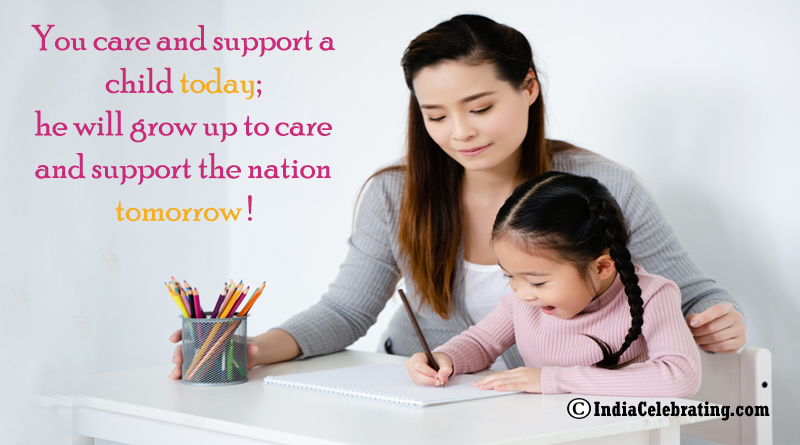 You care and support a child today; he will grow up to care and support the nation tomorrow!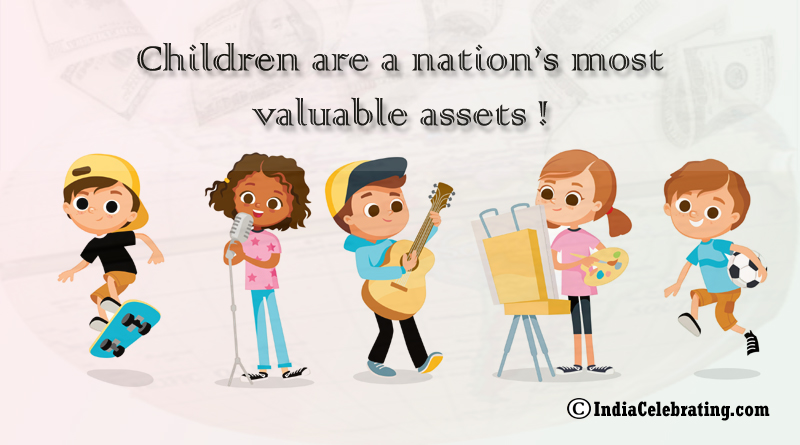 Children are a nation's most valuable assets!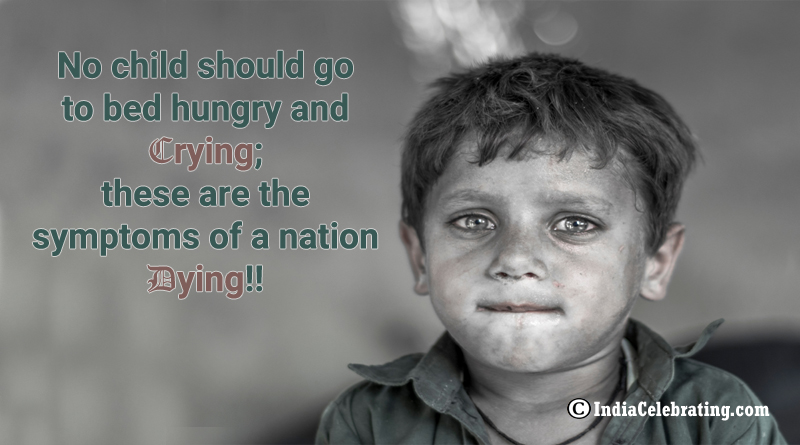 No child should go to bed hungry and crying; these are the symptoms of a nation dying!!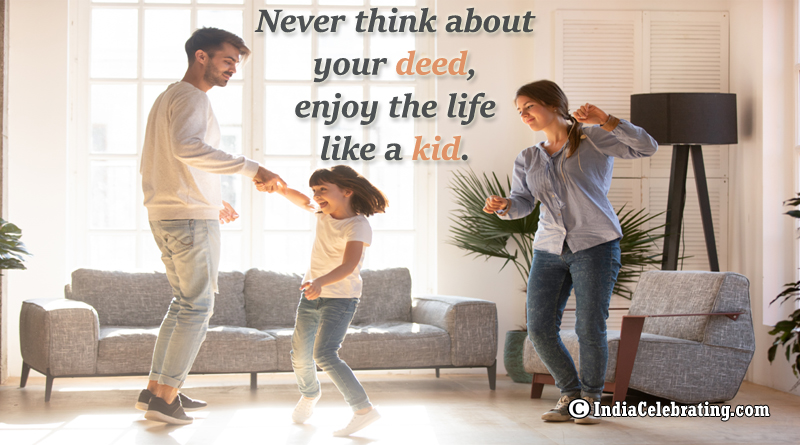 Never think about your deed, enjoy the life like a kid.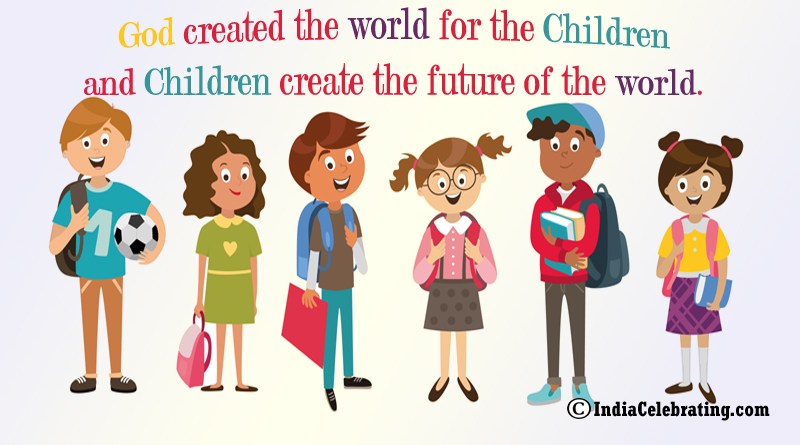 God created the world for the children and Children create the future of the world.
Children are the gift of God; Let them fly with their thoughts.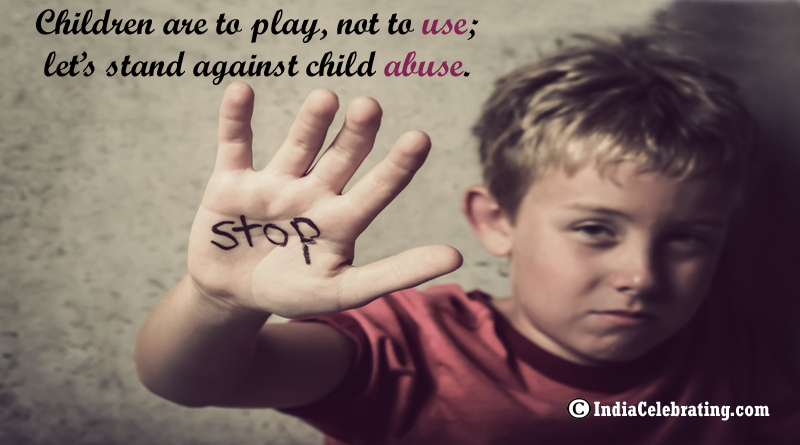 Children are to play, not to use; let's stand against child abuse.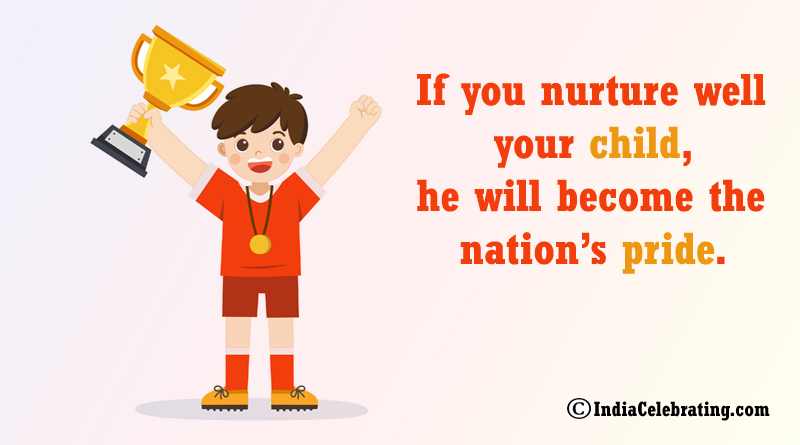 If you nurture well your child, he will become the nation's pride.
Children are the power of divine, Child labour is a crime.
Money can buy anything but can't buy the childhood. Happy Children's Day.
It always feels the ultimate pleasure to kiss the cheeks of a sleeping child.
Childhood is all about being careless and enjoying every moment of life.
Children learn more from the behaviour of their parents.
Every child is like a flower and no two flowers can be compared.
Children don't say "I love you", they just make you feel it.
A nation's strength of tomorrow depends on its children's state of today!
Children are the bricks on which the nation's foundation is based!
A healthy and happy child represents a healthy and happy nation.
A child loved today will spread the love tomorrow!
Nurturing a child is like molding clay; all they need is love, care and lots of play!
Pledge to be nice to every child we meet; one day a history be made with this simple deed!!
Well loved and educated child turns into gold; as he/she grows old.
The path that we show our children today; they will take the nation on the same path tomorrow!
This children's day take a pledge that you will not turn your back when you see a child in distress!
If a child doesn't has to beg or borrow; then only he can be a happy adult tomorrow!!
Tomorrow when we will not be there, our children of today will build the nation!!
Keep your eyes and mind open and be brave to report the incidents of child abuse and child labour.
If only a child is loved today; that he will grow up to love the nation tomorrow!!
Children will forget what you said but remember how you said it! Be nice to them!!
If a single child has to sleep on road; we still haven't made it – say it loud and bold!!
We have done much but much still is left; we will not rest until last child gets the best!!
Many go to school but many still pick up rags; if we could just change those rags with school bags!!
A deprived and sad childhood resembles a crippled and degrading nation!!
Related Information:
Speech on Children's Day for Students
Speech on Children's Day by Principal
Welcome Speech for Children's Day Celebration