Bhimrao Ramji Ambedkar also known as B.R. Ambedkar was born on 14th April 1891 in Mhow (now Dr. Ambedkar Nagar) in Madhya Pradesh. Dr. Ambedkar was an economist and a social reformer, who dedicated his life for the uplift of Indian untouchable (dalit) community. Himself belonging to a backward class, he had faced the discrimination from a very early age and felt the pains of it.
He was the first untouchable to enter the prestigious Elphinstone College, Mumbai. The practice of untouchability was so deeply rooted during those times that his colleagues at Sydenham College of Commerce And Economics in Mumbai refused to share same water jug with him, when he was working as a professor there. Such incidents only made him more resolved to fight the class discrimination which was prevalent in Hindu religion.
He achieved one of the major milestones in his fight against untouchability when he successfully converted to Buddhism on 14th October 1956 along with half a million other dalits at Deekshabhoomi in Nagpur Maharashtra.
He is credited of bringing many social and political reforms by organizing the untouchables throughout India. He fought against the discrimination as well as for the political and social rights of the untouchable community. He was also the Chairman of the Constitution Drafting Committee, when India gained Independence and is known as the 'Father of The Constitution of India'.
The Government of India and its people observe 14th April every year as Ambedkar Jayanti to remember and commemorate the efforts of B.R. Ambedkar towards the abolishment of untouchability and framing of the Constitution; giving us more united and stronger India. Dr. Ambedkar and his efforts are remembered and applauded across the offices and schools in India and people/students are pledged to abolish untouchability. Dr. Ambedkar was posthumously conferred the highest civilian honor of India- Bharat Ratna in 1990.
The father of the Indian Constitution breathed his last on 6th December 1956 at his home in Delhi. Since he had converted to Buddhism, his death is observed as Mahaparinirvana (Nirvana after death according to Buddhist philosophy) on 6th December every year.  On the day homage is paid to Dr. B.R. Ambedkar, throughout the country especially at Chaitya Bhumi (Dadar) in Shivaji Park Mumbai, which is his cremation ground. Millions visit Chaitya Bhumi every year during early December to pay homage to Bhimrao Ramji Ambedkar.
Slogans on B.R. Ambedkar in English
"Slogans" are the shortest and most effective way to express gratitude, emotion, respect, pay homage or even express sorrow. The information conveyed or an emotion illuminated by a full paragraph, can also be achieved only by an effectively written single line "Slogan".  Therefore, I am writing down few Slogans on Dr. Bhimrao Ambedkar, Ambedkar Jayanti and Mahaparinirvan Divas, to encourage and inspire you to take on the path of righteousness and equality, as Babasaheb visioned.
Unique and Catchy Slogans on Bhimrao Ambedkar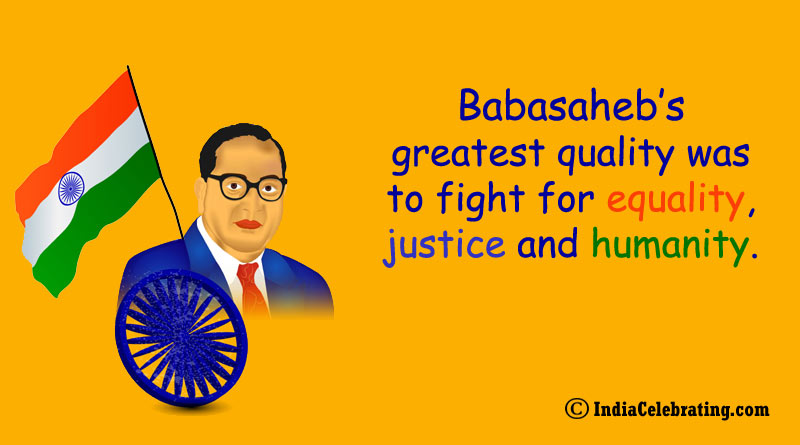 Babasaheb's greatest quality was to fight for equality, justice and humanity.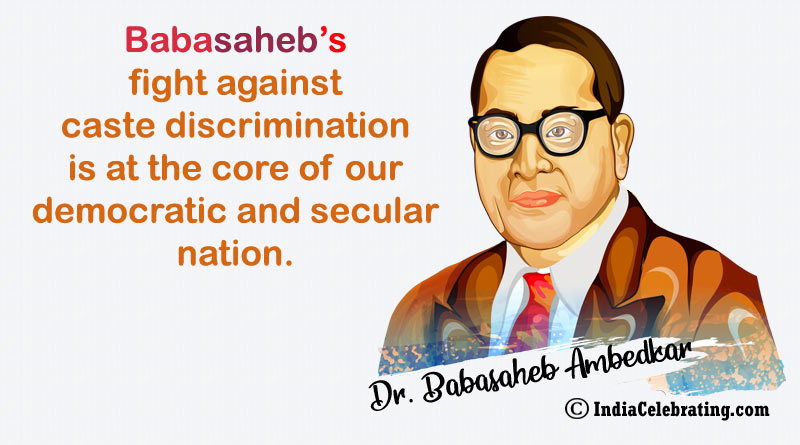 Babasaheb's fight against caste discrimination is at the core of our democratic and secular nation.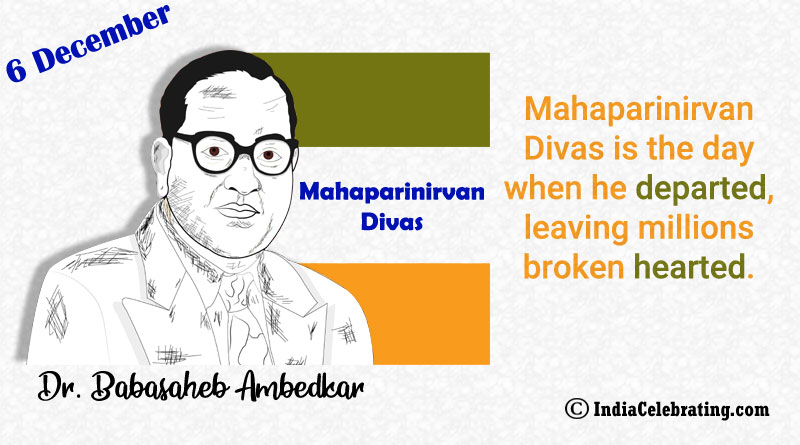 Mahaparinirvan Divas is the day when he departed, leaving millions broken hearted.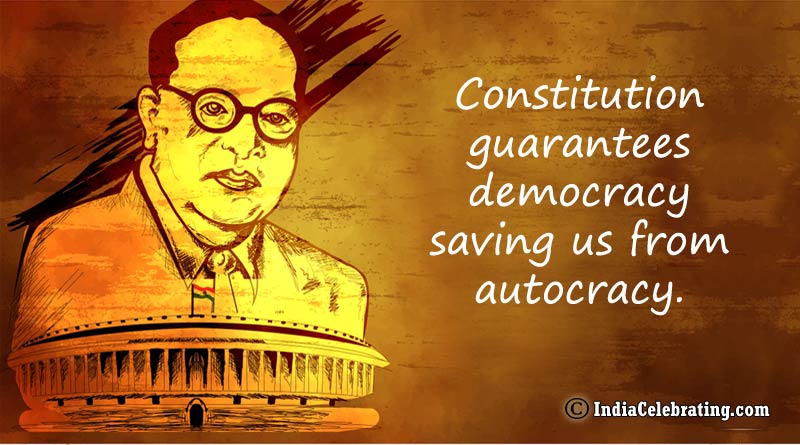 Constitution guarantees democracy saving us from autocracy.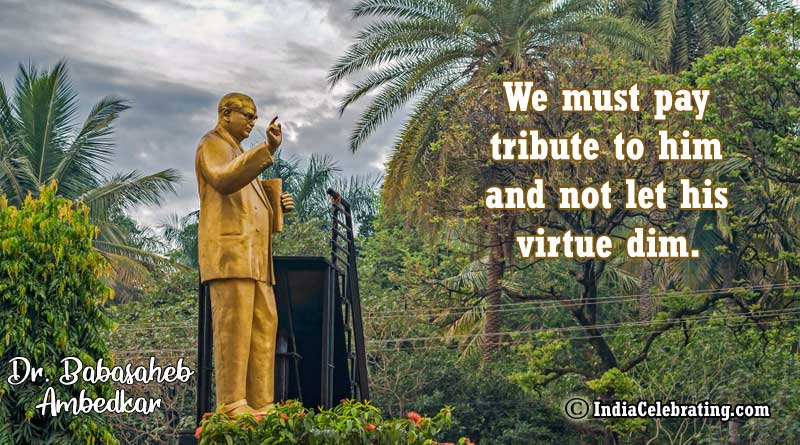 We must pay tribute to him and not let his virtue dim.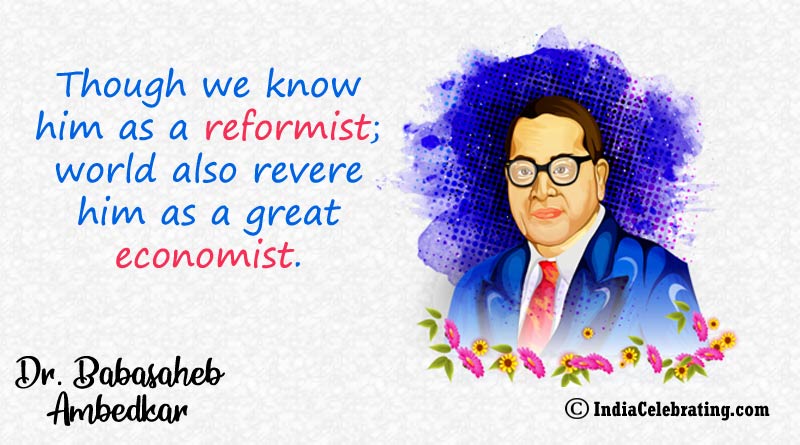 Though we know him as a reformist; world also revere him as a great economist.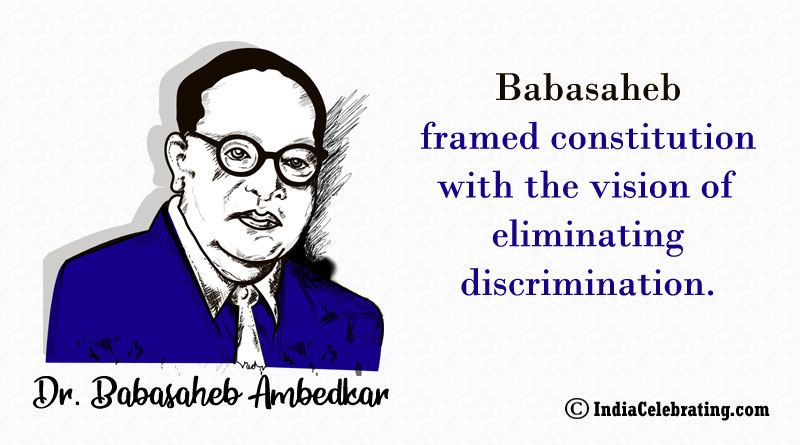 Babasaheb framed constitution with the vision of eliminating discrimination.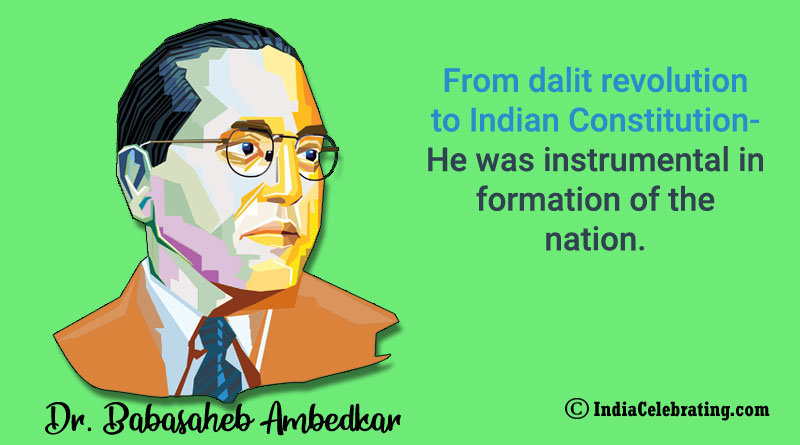 From dalit revolution to Indian Constitution- he was instrumental in formation of the nation.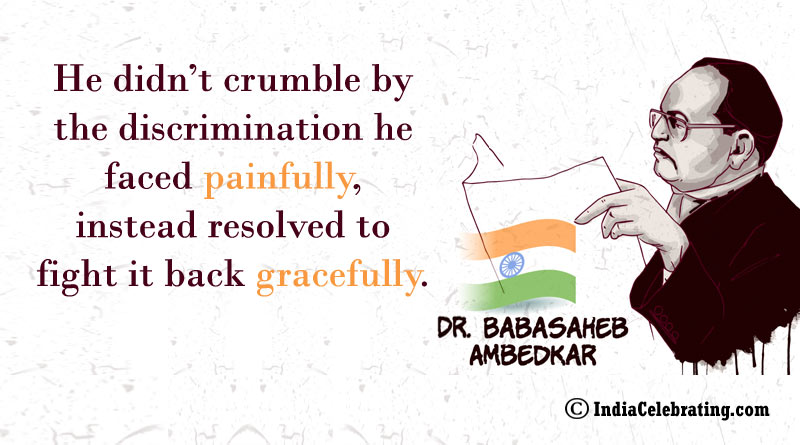 He didn't crumble by the discrimination he faced painfully, instead resolved to fight it back gracefully.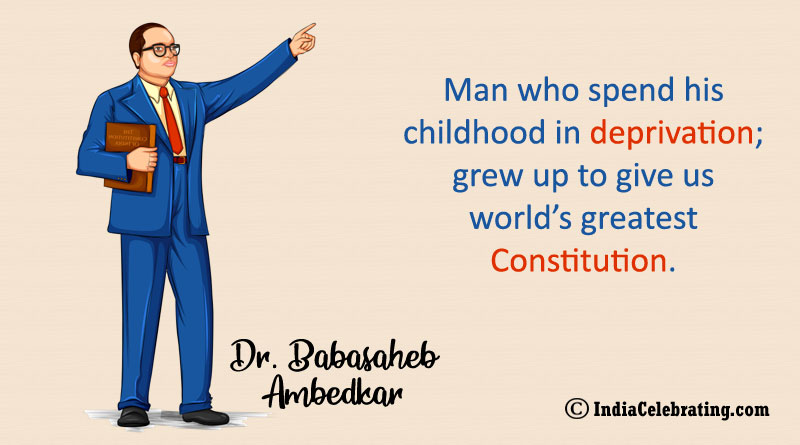 Man who spend his childhood in deprivation; grew up to give us world's greatest Constitution.
As a child he faced difficult circumstances, making him wise enough to grab his chances.
He was the man who inspired millions for mass conversion to escape the perils of discrimination.
Babasaheb Dr. Ambedkar is the father of Indian Constitution.
He resolved to fight against discrimination because he himself was discriminated.
He chose not to fight against the discriminators but instead the discrimination.
He framed the Constitution with an objective to eradicate discrimination.
So genius was his vision that he gave us an unbreakable Constitution.
He had a vision for the rule of law and well knew the perils of lawlessness.
We celebrate Ambedkar Jayanti to commemorate his fight for equality.
Each year on 14 April the nation celebrates the birth of the chief architect of its Constitution.
The nation remembers his cause and mourns his loss.
People gather to pay him respect; garland his statue and remember his virtue.
Nation mourns the loss of its greatest champion of equality.
Though he faced discrimination in life, but that didn't made him strife.
Don't just garland his statues but also remember his virtue.
Man is long dead but his virtue remains and forever will remain.
Father of the Constitution and champion of equality; posthumously received Bharat Ratna in 1990.
The man who framed the Constitution of India was also the first law minister of Independent India.
Let us pledge to abolish class divide only then the nation will thrive.
Babasaheb turned adversity into greatness; with self discipline, stern resolve and politeness.
Babasaheb fought against discrimination by upper castes, but never with them.
Babasaheb got strengthened from humiliations he faced in life.
He is an inspiration for those who face untouchability and a lesson for those who practice it.
Today we stand united and famed, only because of the Constitution which he framed.
Only a man with impartial vision could have framed such a balanced Constitution.
He saved millions from untouchability by converting to Buddhism at Deekshabhoomi.
The departed soul made millions gloomy; he was mournfully cremated at Chaitya Bhoomi.
Related Information:
Dr. Ambedkar Mahaparinirvan Diwas (din)
Speech on National Constitution Day