National flag of India is rectangular in shape and has three horizontal stripes of saffron, white and green from top to bottom respectively. The white stripe in middle has a 24 spokes Ashoka Chakra in navy blue at its centre. The National flag was adopted by the constituent Assembly on 22nd July 1947 and officially became the Flag of the Dominion of India on 15th August 1947 and the Republic of India after 26th January 1950.
It is also called Tiranga (in Hindi) or Tricolor, which means having three colors. The design of the Indian National Flag was hugely inspired from a flag designed by freedom fighter Pingali Venkayya for Indian National Congress in 1921. The National Flag is made of Khadi and has a length to breadth ratio of 3:2.
The saffron color of the flag represents strength and courage, white represents peace and tranquility and green represents prosperity and fertility. The Ashoka Chakra depicts Dharma chakra and is taken from edicts of Ashoka.
The Bureau of Indian Standards decides on the manufacturing and specifications of the flag, while its display is governed by the Flag code of India. The Flag Code of India has been amended twice, first in 2002 to allow the flag's display by general public and again in 2005 to use it in certain specific form of clothing.
National Flag Slogans in English
Indian National Flag is the pride of the citizens of India. Just by looking at the National flag furling atop a building or an institution, ignites the feeling of pride, honor, dignity, integrity and unity in every citizen of India. Below I am writing few slogans on national flag to ignite same feelings in you while you read them and of also to honor the National Flag.
You can use these national flag of India slogans at any related events and occasions in your school, college, office or society. You can also read these unique and catchy national flag slogans to get fact based information about the national flag of India. I hope these slogans on national flag of India are useful to you and you will enjoy reading following slogans:
Unique and Catchy National Flag of India Slogans
Find here best slogans on National Flag of India: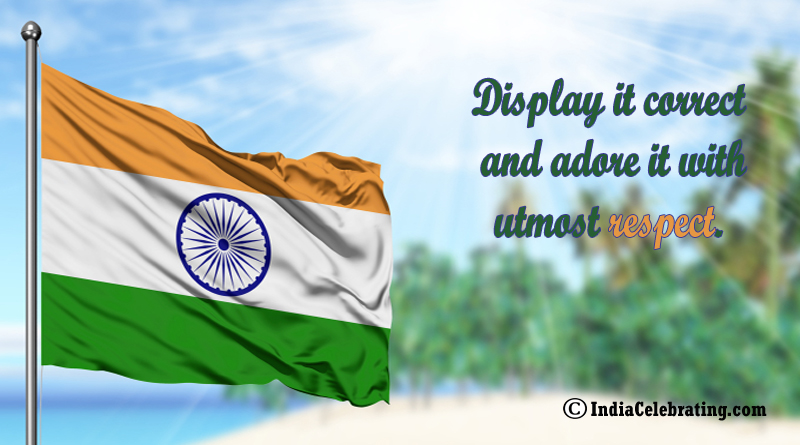 Display it correct and adore it with utmost respect.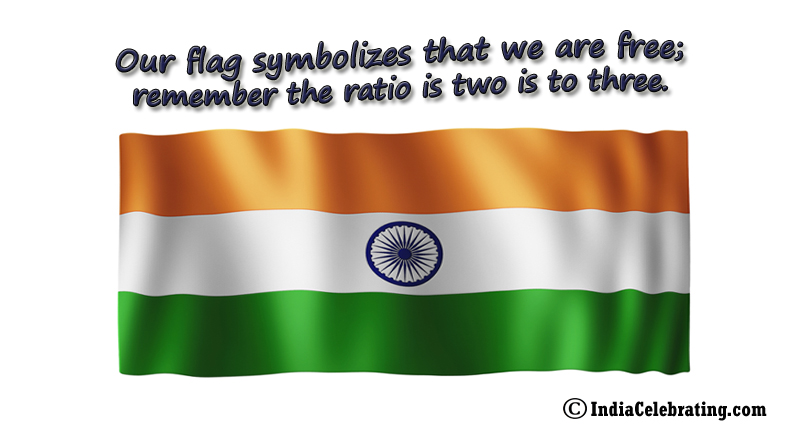 Our flag symbolizes that we are free; remember the ratio is two is to three.
In schools, colleges and offices you must fly; but always remember to place it high.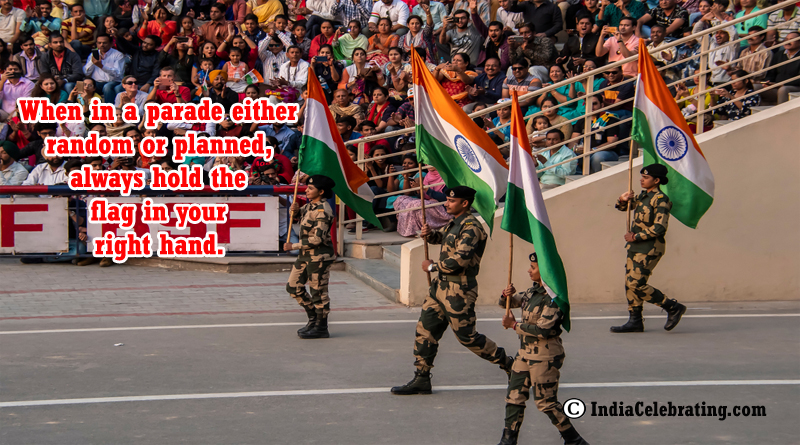 When in a parade either random or planned, always hold the flag in your right hand.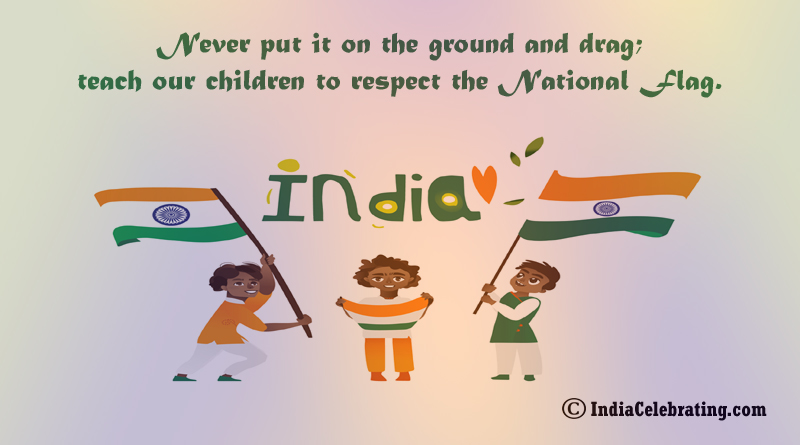 Never put it on the ground and drag; teach our children to respect the National Flag.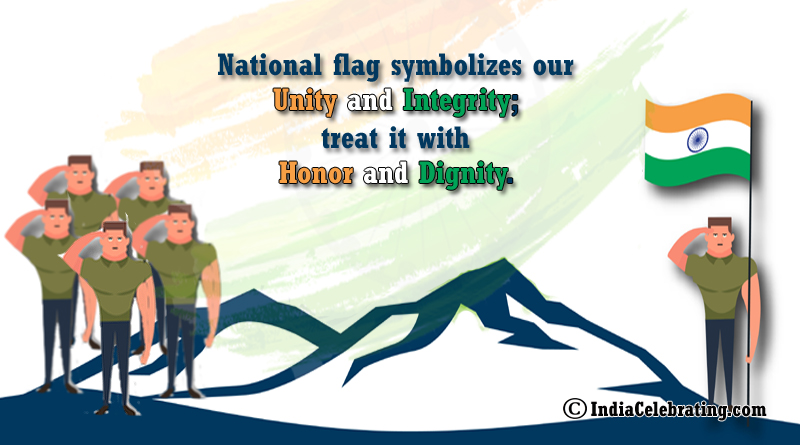 National flag symbolizes our unity and integrity; treat it with honor and dignity.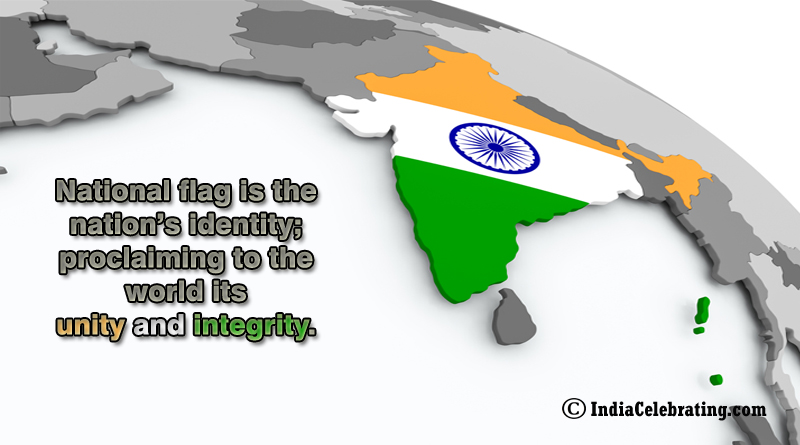 National flag is the nation's identity; proclaiming to the world its unity and integrity.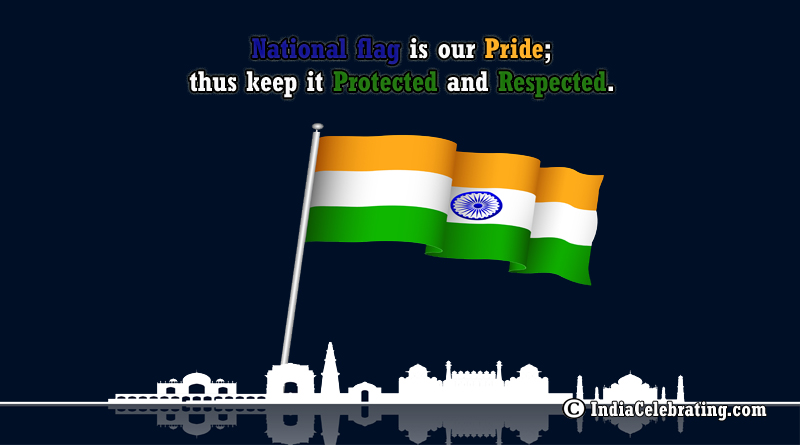 National flag is our pride; thus keep it protected and respected.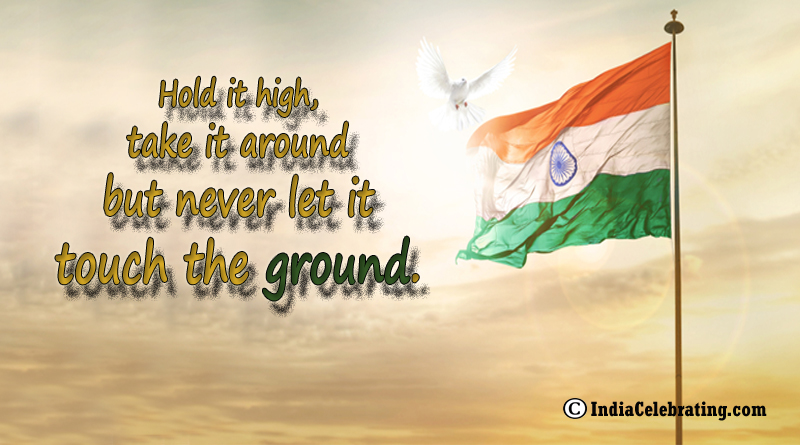 Hold it high, take it around but never let it touch the ground.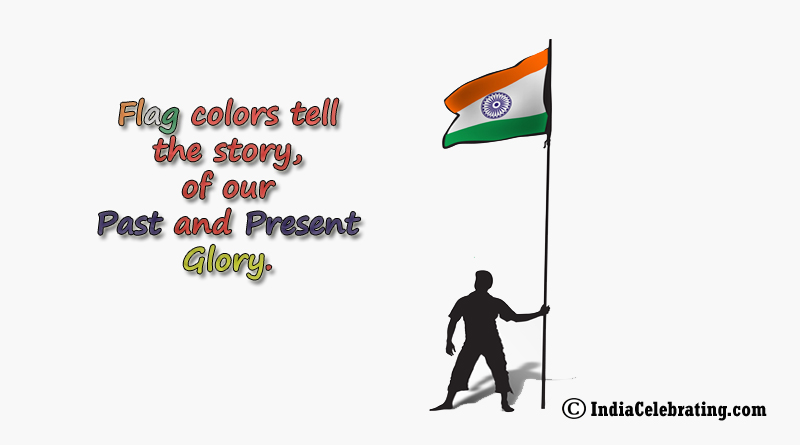 Flag colors tell the story, of our past and present glory.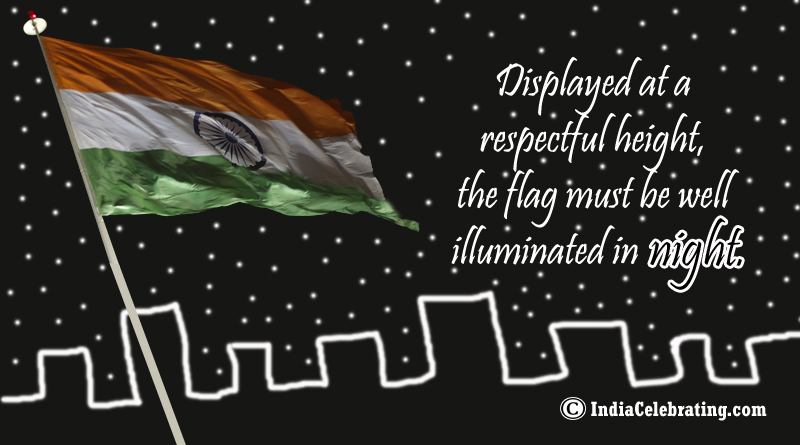 Displayed at a respectful height, the flag must be well illuminated in night.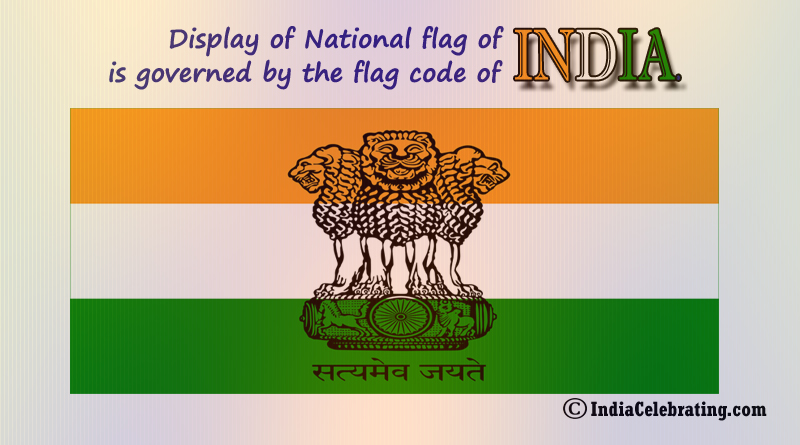 Display of National flag of India is governed by the flag code of India.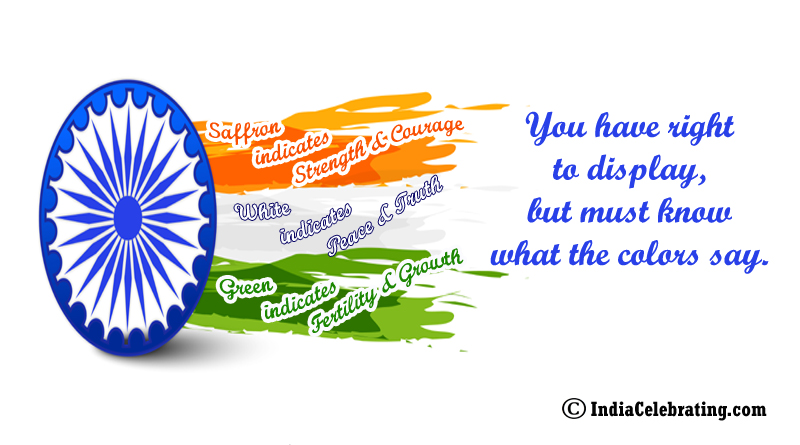 You have right to display, but must know what the colors say.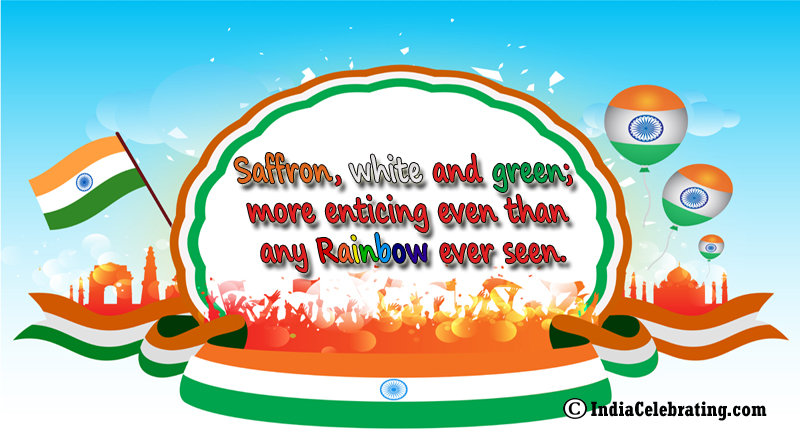 Saffron, white and green; more enticing even than any rainbow ever seen.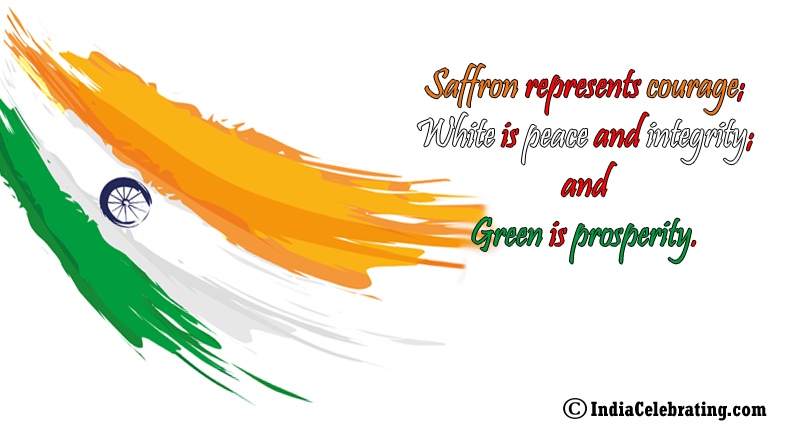 Saffron represents courage; white is peace and integrity; and green is prosperity.
Our National Flag is our pride, let's unfurl it worldwide.
With the help of ISRO, we may see soon; our flag hoisting with pride on the moon.
Anybody may forget, but never will I; my flag will always remain high.
Temporary are the other loves; understand my friend; Love for the national flag will never end.
Whether I live or my breaths are lost, I owe to respect my national flag the most.
Our flag recites the glory of its fighters.
You ask me my identity; listen, it starts with India and ends with India.
"It is time to play dad" said baby girl in persistence, but the soldier wrapped in Tri-Colour was still silent.
Buying the flag is not hard, but to respect it always is the most important part.
It is neither for Hindu, Muslim and nor Christian; the flag is for every Indian.
The flag was designed on a freedom fighter's idea, his name was Pingali Venkayya.
Indian National Flag is like a book of the nation with nothing written on it.
Like your ambitions let it fly; let it flutter reaching the sky.
Our Symbol of Azadi is made from Khadi.
National Flag is the Nation's guiding principle.
Display the National flag as you would display your pride.
Flying the National Flag is our fundamental right, provided that we don't undermine its dignity and do it right.
Thousands have laid down their lives to keep it high; flutter it must on the blue sky.
It can be flown even after sunset, but proper light it must get.
Hoist it fast and lower it slowly; must treat it respectfully as an idol holy.
Display the flag in the right order; inverted display amounts to dishonor.
If displayed vertically, keep this in mind; it is like a book read from top to bottom and left to right.
Nothing except the body of Martyrs should be draped in the National Flag.
Hold it right and high is rule number one; don't dip it down to salute anyone.
It must never be burned, disrespected or destroyed; only with dignity it should be displayed.
Either full or a quarter, it should never be dipped in water.
It should hold nothing else than flower petals; while unfurling on occasions those are special.
It is a symbol of National pride and represents our progressive stride.
It must fly high with full glory; to tell the truth and a glorious story.
Tricolor is the India's ornamentation and her highest form of decoration.
Initially adopted as a symbol of self rule, it also represents the freedom struggle that it fueled.
Let it fly in shine and in rain; pack it if you have to but let the glory remain.
Hold the flag high; let it flutter against the shiny blue sky.
National flag is national pride; should never be mishandled, disrespected or modified.
We have a fundamental right to display the tricolor, but with the pride and honour.
Related Information:
Essay on Indian Flag/National Flag
Paragraph on National Flag of India