Speech on Independence Day celebration means a lot to the person who is interested in expressing his/her thoughts in front of people about the country, history of freedom, Patriotism, Nationalism, Indian National Flag, National Festivals of India, Importance of Independence Day or other topics related to the Indian independence. Here we have provided various speech on Independence day of India for the school going kids, children and students. The speeches have been meticulously written, keeping in mind the requirements of students as well as office going professionals.
One can easily remember the speeches and reiterate in front of audience to gain applause and appreciation. The speeches are also bound to enthrall the audiences, infusing in them the feelings of Nationalism and Patriotism. Professionals can also use these speeches to prepare and deliver a best speech in the offices or other places they need to deliver an Independence Day speech. Using these simple speeches, students can actively participate in the India's Independence Day celebration in the schools/colleges/institutes.
Independence Day | Independence Day Essay | Speech on Independence Day for Teachers | Independence Day Speech for Principal | Slogans on Independence Day | Paragraph on Independence Day | Facts about Independence Day of India | Independence Day Quotes | Essay on National Flag of India | Essay on National Festivals of India | Essay on Importance of Independence Day in India
Long and Short Speech on Independence Day of India in English
We have provided below short and long speech on Independence Day of India, in a simple and easy to grasp language.
Following Independence Day speech contain important points/facts about the Independence Day which will sure enhance your knowledge and expertise in the subject.
Care has been taken to make sure that no vital information on India's Independence Day is left out.
These speeches will be useful on several occasions like on Independence Day celebrations in schools and colleges, speech presentation or debate competitions on national holidays.
Independence Day Speech 1 – Short Speech on 15 August
Good Morning Principal Sir/Madam, teachers and friends. Today I am going to give a short speech on Independence Day.
It is our 73rd Independence Day, today. We must take part in the events with devotion. It is very important to honor the flag and sing national anthem. We must remember our brave freedom fighters on this day.
We should be dressed like Bapu, Chacha Nehru, and Bhagat Singh in order to remember them. Hindus, Muslims, Christians and Sikhs must celebrate the day together. It is also a national holiday today.
It was very pleasing to address you all. Thank You! Happy Independence Day!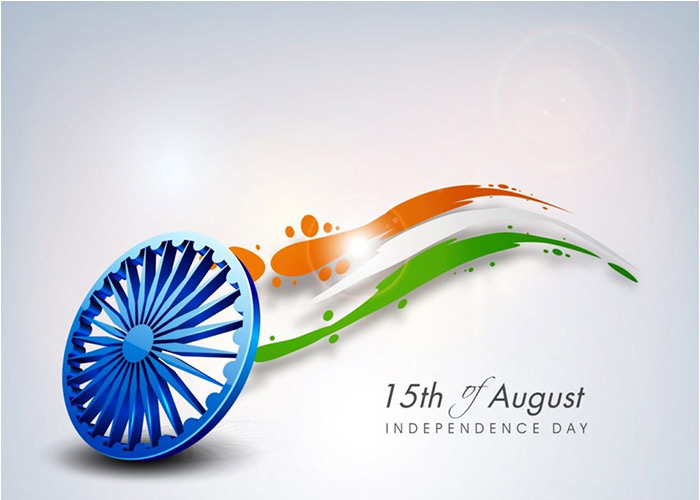 Independence Day Speech 2 – Short Speech on 15 August
Dear Principal Sir/Madam, teachers and friends. Today, we have come here to celebrate the 73rd Independence Day of India.
On 15th August in 1947 we got independence from Britishers. First Prime Minister of India, Chacha Nehru, raised the Indian flag at Red Fort in New Delhi. He also gave his famous speech that day. It was called "Tryst with Destiny".
India became a free nation on this day. Freedom was not easy to get. Many brave freedom fighters had died. They had died to make the country free. We should remember their courage and fight.
They bravely fought for 200 years. We must remember them and honor them. Raise the flag high and sing national songs. Do not put the flag down. Do not tear the flag. Freedom is very important, so keep it safe. With this I end my speech.
Thank you and Happy Independence Day to all!
Independence Day Speech 3 – Short Speech on 15 August
Respected; Principal, teachers, staff members and all my dear friends. I welcome you all from the bottom of my heart on this day of national reverence, when we celebrate the country's 73rd Independence Day, today.
I feel immensely honoured to having been given an opportunity to address you all on such a significant occasion and express my own views.
As we all know that India gained independence on August 15, 1947. It was on this day that the British departed from Indian soil, transferring the legislative powers to the Indian Constituent Assembly. In other words, India was now to be ruled by its own people and not by foreign invaders.
It was the most joyous moment in the history of India as it came following nearly two centuries of struggle and revolutions against British sovereignty. The day reminds us of the valour and sacrifices of our fellow countrymen, who were the torchbearers of the freedom struggle.
Let us celebrate this Independence Day to commemorate the indomitable spirit of our freedom fighters and political patrons of that time. It is because of them that we enjoy the fruits of freedom today.
---
Independence Day Speech 4 – Short Speech on 15 August
Respected Principal Sir, teachers, guests and my dear friends. It's an honour for me to address you all on our 73rd Independence Day, today.
As we all know that it was on this fateful day in 1947, that we gained independence, thanks to the freedom fighters and political visionaries of that time. They had envisioned a free and united India, and fought courageously against British invaders to make their dream true.
Finally, their dream was realized on 15th August 1947; though, the nation had to pay heavy price for it. With the joy of independence, came the sorrow of partition.
The celebration of Independence was marred by the formation of Dominion of Pakistan on 14th August, 1947 and battered by the communal violence following it.
When half of India was rejoicing its independence, half of it was burning from communal riots. This wasn't something that our freedom fighters and political leaders could have imagined, while struggling for independence.
Bhagat Singh, Sukhdev, Rajguru, Bal Gangadhar Tilak, Chandrasekhar Azad, didn't sacrifice their lives to see fellow Indians slitting each other's throat on communal grounds. They envisioned an India having communal, religious and cultural harmony.
It is impossible to change history, but we can always change the future and make new history. Independence Day was indeed one of the most significant days in the history of India, but we must also remember those who have sacrificed their lives to make us live this day. Also, we must not forget that any kind of demographic division on the basis of religion, caste or creed will only hamper our progress.
Let us end the speech with a pledge to maintain the sovereignty and equality of the nation and to remember those who lost their lives to give us independence. Jai Hind!!
---
Independence Day Speech 5 – Long Speech on 15 August
Good morning to all my respected teachers, parents and dear friends. Today we have gathered here to celebrate this great national event. As we all know that Independence day is an auspicious occasion for all of us. India's Independence Day is the most important day to all the Indian citizens and has been mentioned forever in the history.
It is the day when we got freedom from the British rule after many years of hard struggle by the great freedom fighters of India. We celebrate independence day every year on 15th of August to remember the first day of freedom of India as well as remember all the sacrifices of the great leaders who have sacrificed their lives in getting freedom for India.
India got independence on 15th of August in 1947 from the British rule. After independence we got our all the fundamental rights in our own Nation, our Motherland. We all should feel proud to be an Indian and admire our fortune that we took birth on the land of an Independent India. History of slave India reveals everything that how our ancestors and forefathers had worked hard and suffered all the brutal behavior of Britishers.
We cannot imagine by sitting here that how hard the independence was for India from the British rule. It took sacrifices of lives of many freedom fighters and several decades of struggle from 1857 to 1947. An Indian soldier (Mangal Pandey) in the British force had first raised his voice against Britishers for the independence of India.
Later several great freedom fighters had struggled and spent their whole life only for getting freedom. We can never forget the sacrifices of the Bhagat Singh, Khudi Ram Bose and Chandra Sekhar Azad who had lost their lives in their early age just for fighting for their country. How can we ignore all the struggles of Netaji and Gandhiji. Gandhiji was a great Indian personalities who taught Indians a big lesson of non-violence. He was the one and only who lead India to get freedom with the help of non-violence. Finally the result of long years of struggle came in front on 15th of August 1947 when India got freedom.
We are so lucky that our forefathers have given us a land of peace and happy where we can sleep whole night without fear and enjoy whole day in our school or home. Our country is developing very fast in the field of technology, education, sports, finance and various other fields which were almost impossible before freedom. India is one of the countries rich in nuclear power. We are going ahead by actively participating in the sports like Olympics, Commonwealth games and Asian games.
We have full rights to chose our government and enjoy largest democracy in the world. Yes, we are free and have complete freedom however we should not understand ourselves free of responsibilities towards our country. As being responsible citizens of the country, we should be always ready to handle any emergency condition in our country.
Jai Hind, Jai Bharat.
---
Independence Day Speech 6 – Long Speech on 15 August
A very warm good morning to the respected teachers and my dear friends gathered here. Today we are gathered here to celebrate this auspicious occasion of Independence day on 15th of August. We celebrate this day with lots of enthusiasm and joy every year because our country got freedom at this day in 1947 from the British rule. We are here to celebrate nth number of independence day. It is great and most significant day for all Indians. People of India had suffered cruel behavior of Britishers for many years.
Today we have freedom in almost all fields such as education, sports, transportation, business, etc just because of the years of struggle of our forefathers. Before 1947, people were not so free even they were restricted to have rights on their own body and mind. They were slave of Britishers and forced to follow all the orders of them. Today we are free to do anything because of the great Indian leaders who struggled hard for many years to get freedom against British rule.
Independence day is celebrated all over India with much pleasure. This day is of great importance to all Indian citizens as it gives us opportunity to remember all those freedom fighters who had sacrificed their lives just for giving us a beautiful and peaceful life. Earlier to the independence, people were not allowed to get education, eat healthy food and live normal life like us. We should be grateful to those events responsible for the freedom in India. Indians were treated more badly than slaves by the Britishers just to fulfill their meaningless orders.
Some of the great freedom fighters of India are Netaji Subhash Chandra Bose, Jawahar Lal Nehru, Mahatma Gandhiji, Bal Gangadhar Tilak, Lala Lajpath Ray, Bhagat Singh, Khudi Ram Bose and Chandra Sekhar Azad. They were famous patriots who struggled hard for the freedom of India till the end of their life. We cannot imagine that horrible moment struggled by our forefathers.
Now, after many years of independence our country is on the right track of development. Today our country is a well established democratic country all over the world. Gandhiji was great leader who taught us about effective way of freedom like ahimsa and sathyagraha methods. Gandhi dreamed of an independent India with the non violence and peace.
India is our mother country and we are its citizens. We should always be ready to save it from the bad people. It is our responsibility to lead our country ahead and make it a best country of the world.
Jai Hind.
---
Independence Day Speech 7 – Long Speech on 15 August
Very good morning to the honorable Chief Guest of the day, respected teachers, parents and my all dear friends. I wish you all a very Happy Independence Day. We all know the reason of get together here in such a big crowd. We all are excited celebrating this great day in such an excellent manner. We are gathered here to celebrate 73rd independence day of our nation.
First of all we hoist our honorable national flag then give a salute to all the heroic deeds of the freedom fighters. I am feeling so proud to be an Indian citizen. I have such a great chance to give a speech on the Independence Day in front of you all. I would like to say thanks to my respected class teacher that she has given me an opportunity to share my views with you all about the freedom of India.
We celebrate Independence day every year on 15th of August because India got freedom on the night of 14th of August in 1947. Just after the independence of India, Pandit Jawaharlal Nehru had given a speech on the Independence day in New Delhi. When people all over the world were sleeping, people in India were waking to get freedom and life from the British rule. Now, after the independence, India has been a largest democratic country in the world. Our country is a most famous country for the saying of unity in diversity. It face many incidents testing its secularism however Indian people become always ready to answer with their unity.
Because of the hard struggles of our forefathers we are now able to enjoy the freedom and breathe fresh air according to our wish. Getting freedom from the Britishers was really an impossible task our forefathers did with their continuous efforts. We can never forget their works and always remember them through the history. We cannot remember all the deeds of all the freedom fighters in a day only however can give them a heartily salute. They would always be in our memories and way of inspiration to us whole life.
Today is the very significant day for all Indians which we celebrate remembering sacrifices of great Indian leaders who had given their lives for the freedom and prosperity of the country. Freedom of India was possible because of the cooperation, sacrifice and involvement of all the Indians. We should value and salute all the Indian citizens because they are the real national heroes. We should keep faith in the secularism and never be separate to maintain the unity so that no one can break and rule again.
We should take an oath today of being highly responsible and well-educated citizens of the tomorrow India. We should sincerely perform our duty and do work hard to get the goal and successfully lead this democratic nation.
Jai Hind, Jai Bharat.
---
Independence Day Speech 8 – Long Speech on 15 August
A very good morning to the excellencies, respected teachers and my dear colleagues. We are gathered here to celebrate nth Independence day. I am very happy to speech here on this great occasion. I am very grateful to my class teacher to give me such a special opportunity to say my views on the independence day of my country. At this special occasion of independence day I would like to speech on the India's struggle for getting freedom from the British rule.
Long years ago, great Indian leaders were made a tryst with the destiny to give us a free and peaceful country by sacrificing their comfort of life. Today we are gathered here to celebrate independence day without any fear and having happy face just because of our brave forefathers.
We cannot imagine that how the moment was critical at that time. We have nothing to give our forefathers in return for their precious hard works and sacrifices. We can only remember them and their deeds and make a heartily salute while celebrating the national events. They would always be in our hearts. After the independence India get new birth with happy face of all Indian citizens.
India got independence on 15th of August in 1947 from the clutches of British rule. Indian people all over the country celebrate this national festival annually with lots of joy and enthusiasm. It was great day for all the Indian citizens when India's tricolor flag was unfolded by the first Prime Minister of India, Pandit Jawahar Lal Nehru, at the Red Fort, Delhi.
A huge celebration takes place in New Delhi at Rajpath every year where national anthem is sung after the flag hoisting by prime minster. Together with the national anthem a salute through 21 guns firing and showering of flowers through helicopter is given to the national flag. Independence day is a national holiday however everyone celebrate this from their own places by hosting the flags in schools, offices or society. We should feel proud to be an Indian and try our best to save the honor of our country.
Jai Hind.
---
Long Speech on Independence Day of India 9 – Speech on 15 August

Hon'ble Guests of Honor, Senior Managers, Managers, other Staff Members and My Dear Friends – Warm Greetings to all of you!
I am feeling extremely glad to have been standing in front of you and hosting this invigorating day on the eve of Independence Day. We as Indians very well realize the importance of Independence Day and should be filled with utmost pride to have finally won back our freedom from the shackles of British rule. It gives me a sense of immense joy which is indescribable in words when I see our national flag soaring in the wind high up.
I am sure you can relate with my emotions. Needless to say, Independence Day is celebrated on 15th of August every year and it is in the year 1947 that India emerged as a free nation. Since this is a day of great historical importance for all the Indians, national holiday is being declared in India and all of us celebrate Independence Day with great warmth and show.
This is just a brief about Independence Day, but does anyone here know about the period of British Raj? Well, let me share with you all that it was between 1858 until 1947 that the Britishers colonized our Indian subcontinent. This time period is called the British Raj period.
Now, it becomes even more interesting to know how the British colonial rule began in our country. When the East India Company arrived in India, they were stripped of the goods and land of Indian citizens by conspiracy and Queen Victoria making it all the property of the monarchy.
The East India Company was founded in 1600 under Royal Charter during the monarchical reign of Elizabeth I. Though apparently its chief aim was to trade, it eventually became an indomitable force of colonization controlling the most part of our Indian subcontinent. The people living in the Indian subcontinent during that time became the subjects of the British colonial rule under Queen Victoria and subsequently other monarchs who came after her.
I am sure we all can gauge that gaining independence under such challenging situation was not an easy task, but required long and persistent efforts. One of the most prominent personalities who chiefly contributed towards gaining independence was Mahatma Gandhi or what we usually address him as Bapu.
What makes him even a greater personality is the fact that he achieved independence by not following the path of violence or bloodshed, but through his policy of non-violence wherein he did not oppose the rule of Britishers through armed fighting rather he with his followers started the non-violence campaign which comprised hunger strikes and civil disobedience. Their concerted efforts ultimately brought an end to the British Raj in our country. British rule was given an official garb under the name of "British administration of India" and under that garb Indians had to undergo a lot of pain and trauma.
We should salute those heroic spirits and pay our homage to them by remembering their brave deeds and sacrifice for our mother land and never forget that it is because of their efforts that we stand today and breathe in an Independent India.
But the seeds of self-governance in our country were laid down much before India won its independence. In the 19th century, several Indian councilors were appointed on various advisory roles. They were hired for the advisory support of the British viceroys who continued to rule across the major parts of India. In the year 1892, a law known as the Indian Councils Act came into being with a view to empower these councilors as well as other Indian officials. But they remained under the higher British authority and had to put up with the prejudices of the white men to be able to reach the pinnacle of success in their jobs.
It was somewhat in the midnight between 14th August and daytime of 15th August 1947 that the treaty of Indian sovereignty was signed. This was a time when George VI was ruling as the king in Britain and Clement Attlee was their prime minister. In India Jawaharlal Nehru became the prime minister of independent India and Britain renounced his rule over India. The Britishers no longer had anything to do with the Indian affairs.
Even though we do not bear witness to those times, but we can understand very well the intensity of that crucial time when our country actually gained independence. We cannot help but feel proud of it. However, the declaration of freedom came in written in the year 1929, which is much earlier. This declaration happened along with the great freedom fighter Mahatma Gandhi and other known figures, who hoisted the Indian Flag.
It was indeed a big moment for all the Indians. The day of declaration of Indian independence is called as Purna Swaraj. It is quite significant to understand that even though India gained independence in the year 1947, it was only in the 1950s that India's official constitution as an independent nation came into effect. The period in between was a transition phase in the form of 3 intervening years.
So how can we Indians let go off this momentous day in normalcy and not celebrate this historic day with great pomp and show. So on this day of great historical importance, our prime minister visits Red Fort and hoists the Indian National Flag or our Tricolor (Tiranga). Post that the national anthem is being sung. It is then followed by a stirring speech delivered by our prime minister to the people of its country. Now, the 73rd Independence Day will be celebrated on August 15th, 2018. The whole sight looks so spectacular and mesmerizing that we can't help but remain in awe while witnessing the whole ceremony.
In the end, all that can be said is freedom is priceless and our soldiers are so brave that they are continuously fighting on borders in order to protect our country from any militant or terrorist group. So we should never fail to value this freedom and preserve it wholeheartedly.
This is all I can say, Jai Hind!
More on Independence Day:
Independence Day | Independence Day Essay | Slogans on Independence Day | Paragraph on Independence Day | Facts about Independence Day of India | Speech on 15 August 1947 by Nehru | Independence Day Quotes | Live Celebration Ceremony of 69th Independence Day of India at Red Fort Delhi | President's Address to the Nation on the eve of Independence Day | National Anthem of India | National Flag of India | National Song of India | Essay on National Festivals of India | Essay on Importance of Independence Day in India | Speech on Independence Day for Teachers | Independence Day Speech for Principal